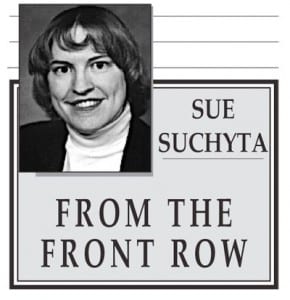 The Dearborn arts community honored artists, volunteers and patrons Feb. 11 at the 27th annual Mayor's Arts Awards at the Ford Community & Performing Arts Center.
The Arts Organization Award went to the Mexican Patriotic Committee, with the Dearborn Community Arts Council Bravo Award going to Bunny Sandhu of the Padzieski Gallery and the Artists' Society of Dearborn.
George Popovich received the Arts Educator Award, with Janet Kondziela receiving the Artist / Performer Award.
The Arts Patron Award went to InSyte, with Wendy Balaka receiving the Arts Volunteer Award, and William Brehm honored in absentia with the Mayor's Award.
Dancers from Ballet Folkorico Raices Mexicanas de Detroit and the Prysm Tap Club performed.
Vocal performances included Henry Ford College's Renaissance Voices, under the direction of G. Kevin Dewey, and songwriter and composer Jade Reynolds sang original works with Gregory Martin on guitar.
Master of ceremonies Mike Moseley, who works at The Henry Ford in Dearborn, and is president of the Players Guild of Dearborn, reminded attendees that the city is a special place for the arts.
"Rarely have I seen a community this unabashedly in love with the arts, this amazingly committed to its young people, and making sure that this development continues in them and that is celebrated in everything that they do," Moseley said.
HFC PRESENTS COLLAGE CONCERT FEB. 28
Henry Ford College presents its 20th Annual Collage Concert at 7 p.m. Feb. 28 at the Ford Community & Performing Arts Center, 15801 Michigan Ave. in Dearborn.
Tickets are $10 until Feb. 20 — $15 afterward — and are available by emailing Rick Goward at [email protected], calling 313-943-2354 or online at dearborntheater.com.
The show features two jazz bands, Studio 110 and the Henry Ford Big Band, and the concert band, the Metropolitan Symphony Band.
Two vocal jazz ensembles, Blue Fusion and Midnight Blue will perform, as will the women's choral ensemble Renaissance Voices.
Two mixed choirs, the Henry Ford College Chorus and the Vanguard Voices, also perform.
The cast of "Hairspray," HFC's spring musical, will perform a sneak preview scene as well.
'MILLION DOLLAR QUARTET' RETURNS TO FISHER
The Tony Award-winning Broadway musical "Million Dollar Quartet" returns to the Fisher Theater March 6 to 8 for a four-show run. Show times are 8 p.m. March 6 and 7, and 2 p.m. March 7 and 8.
Tickets are $35 to $75, and are available through the Fisher Theater box office. For more information, or to order, call 800-982-2787 or go to broadwayindetroit.com or ticketmaster.com.
The show, inspired by a true story, it is set on Dec. 4, 1956, when fate brought together Johnny Cash, Jerry Lee Lewis, Carl Perkins and Elvis Presley at the Sun Records storefront studio in Memphis for the first and only time. The evening resulted in one of the greatest rock 'n' roll jam sessions in history.
The show features timeless hits like "Blue Suede Shoes," "That's All Right," "Sixteen Tons," "Great Balls of Fire," "I Walk the Line," "Whole Lotta Shakin' Goin' On," "See Ya Later, Alligator," "Fever," "Folsom Prison Blues," "Hound Dog" and more.