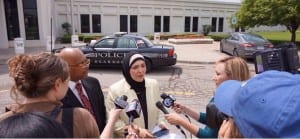 By ZEINAB NAJM
Times-Herald Newspapers
DEARBORN – A Dearborn woman who said police forced her to remove her hijab during booking procedures last September is suing the city, Police Chief Ronald Haddad and specific police officers.
The suit was announced during a press conference conducted by the American-Arab Anti-Discrimination Committee Michigan Regional Office June 30 outside the Police Department.
In the lawsuit, Maha Aldhalimi, 48, said she was arrested in September for a parking violation warrant when she was stopped by police for parking in a no parking zone outside of Walmart, 5851 Mercury Drive.
Aldhalimi said she was unaware of the parking warrant.
During the booking process at the Police Department, Aldhalimi said she was forced to remove her Islamic hijab for her booking photo in front of male officers.
In Islam, women who wear the hijab must keep their hair and neck covered in front of men who are not part of their immediate family.
Aldhalimi did not attend the press conference because she wanted to maintain her privacy.
ADC-Michigan Director and attorney Fatina Abdrabboh said Aldhalimi was crying, shivering and pleading with officers to allow her to keep her hijab on or have a female officer take the photo.
Aldhalimi claims both of those requests were denied by officers.
"Dearborn police has a policy that says the department must provide women a female officer and jail hijab when being booked," Abdrabboh said. "The policy is there to be used."
Abdrabboh also said that Aldhalimi was feeling fearful, vulnerable and intimidated by involved police officers following the incident.
"We have attempted to obtain the footage of the booking process but have not been able to," Abdrabboh said. "The city and police department have not been compliant with our requests."
Abdrabboh said several other women have contacted the ADC-Michigan after being forced to remove their hijab by Dearborn police officers disregarding the women's religious beliefs.
"The city of Dearborn should know about the hijab and religious beliefs of covered women," Abdrabboh said. "The practices of the city of Dearborn in relationship to Muslim women and their religious practices must not any longer go unchecked."
The ADC-Michigan is the nation's largest Arab-American civil rights and social advocacy organization. Its mission is to protect the civil rights of Arab-Americans and promote their cultural heritage.
"We invite the city and police officers to have a discussion on their current policy," Abdrabboh said. "Together we can improve the booking policy to meet the religious needs of women who wear the hijab."
Spokespeople for the city and Police Department declined to comment by press time.
(Zeinab Najm can be reached at [email protected])