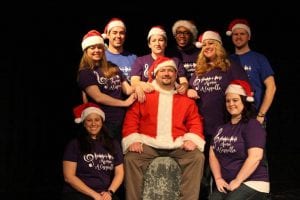 "Home for the Holidays" will fill the Catherine A. Daly Theatre on the Avenue with favorite holiday songs from the 1940s to the present at the theater, 2656 Biddle in Wyandotte.
Performances are 7:30 p.m. Dec. 9, 10, 16 and 17, and 3 p.m. Dec. 11 and 18 at the playhouse.
Singer Elaine Lukawski said the show has something for everyone, and will draw families closer together.
"Folks will relate to the story line, as well as the songs describing the hustle and bustle of Christmas," she said, "and making wishes to Santa, to the true meaning of Christmas, which is love, joy and peace to all."
Madison Ganzak said the show is about families, and hopes people will see the show with their relatives.
"I am singing 'I Want a Hippopotamus for Christmas,'" she said. "It makes me remember Christmas with my grandpa."
Jaclyn Duvall said in addition to making people feel nostalgic, the music will tug on their heartstrings.
"Anytime you listen to holiday music, it brings back joyous memories of those you love, which puts you in a holiday mood," she said.
Duvall said "One Candle," is beautiful, and the lyrics talk about the hope for peace in the world.
"It is something we desperately need more of in today's world," she said.
The first act features songs that would be on a 1940s radio show, followed by Ed Sullivan and Lawrence Welk songs from the 1950s to early 1970s television shows.
The youth ensemble, with 27 children, and teen ensemble, with 14 singers, offer Santa-themed and other lighter holiday songs.
The second act features "American Bandstand" holiday favorites from the 1950s to 1980s, followed by a Sonny and Cher act from the early 1970s.
The "Donny & Marie" show covers the second half of the 1970s, with "American Idol" covering hits from the 21st century.
Avenue A Cappella, which made its debut in November, will showcase its skills with a sing-off featuring songs from 2009 to 2013.
Performing with Avenue A Cappella for the holiday show are Amanda Aue, Bryan Aue, Melanie Aue, Emily Braun, Nick Brown, Jay Carter, Kayla Chavez, Lucinda Chavez, April Denny, Abigail Hill-Kennedy, Jami Krause, Brian Welch and Sam Xavier.
Ten other adults also sing in the show, along with eight dancers.
Featured actors include Kenny Konazewski, Jennifer Berringer, Jeanne Edwards, Blake Berringer and Camdyn Konarski.
Jeff Powers sings "White Christmas," with Emily Braun singing "Have Yourself a Merry Little Christmas," Jaclyn Duvall singing "What are you doing New Year's Eve," and Antonella Menna singing "Silent Night."
Amanda Aue sings "Ave Maria," and Bryan Aue and Jeff Powers sing "Peace on Earth" and "The Little Drummer Boy."
Sam Xavier sings "The Christmas Song," "Please Come Home for Christmas" and "Oh, Holy Night."
Nick Brown sings "Mary Did You Know," with Abigail Hill-Kennedy singing "Winter Wonderland" and Molly Pelkey singing "I'm Getting Nothin' for Christmas" and "Suzie Snowflake."
Tickets are $15, with a $3 discount for students and seniors. To order call 734-407-7020 or to to downriveractorsguild.net.
'FUN HOME' AT THE FISHER WORTH SEEING
"Fun Home," at the Fisher through Dec. 11, is an amazing musical, moving audiences and drawing them into an intimate story sans big dance numbers and the razzle-dazzle of so many big productions.
As a young woman coming of age, the story is told by Alison through three actresses playing the lead — a girl, a teen, and a woman — who watches, and sometimes narrates her life.
Three talents actresses with impressive voices play the roles: Kate Shindle as adult Alison, Abby Corrigan as teen Alison, and Alessandra Baldacchino as preteen Alison.
When, in college, Alison discovers she is a lesbian, she finds out how her father fought to deny his gay identity his entire life, with painful consequences to his wife and family.
This is a show about characters you care about, with a nine-person cast. The show makes you think and feel, and it flies by. It offers an amazing experience, and definitely deserves its five Tony Awards.
The show runs 1 hour and 40 minutes, with no intermission, and contains sexual references. It is not appropriate for younger children.
For tickets, call 800-982-2787 or go to broadwayindetroit.com or ticketmaster.com. For more information about the show, go to FunHomeBroadway.com.