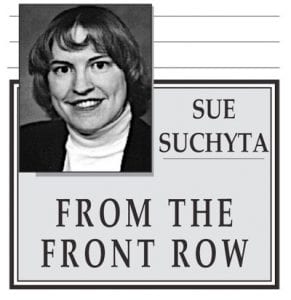 Most musical theater afficiandos have songs on their  bucket list they will never deliver on stage because their voice, gender or physical type doesn't match the role, even with theater magic on their side.
Wyandotte Community Theatre defies convention for some fun and fund-raising with "Why Not Me? A Miscast Cabaret" at 7:30 p.m. June 2, 3, 9 and 10 at the Paragon Support Systems auditorium, 2101 Grove, Wyandotte.
The show, a medley of familiar and favorite Broadway show tunes, mixes up the gender and type casting of the vocalists as it delivers show-stoppers from "Wicked," "Hamilton," "Legally Blonde," "Into the Woods" and other musicals.
Directed by Rachel Kret of Wyandotte, the cast includes Elaine Lukawski and Tony Primeau of Lincoln Park, Zachary James Morgan of Romulus, Heaven Lang and Ethan Thomas of Southgate, Jenna Perugi and Andrea Vanderhorst of Trenton, Dalton Pittman-Cahill of Westland, Gavin Alvedy of Woodhaven and Wyandotte residents Alex Barr, Brett Massey, Lorraine Noel, Maria Norman and Dylan Stone.
Kret said WCT usually doesn't do summer shows, so they wanted to ease into the process by doing a show that didn't have a lot of production challenges. She said the cabaret songs they selected are fun, engaging and appeal to both the performers and audience.
"We want them to enjoy what they are singing and love it and have fun and also for that to translate over to the audience so that they have that fun," Kret said.
She said they dubbed it "miscast cabaret" because the cast is switching genders and going against type with the roles. They are also building on a carnival theme, which they are using to enhance the fun of the experience.
"At a carnival, everything is not as it is," Kret said. "We have carnival games, we have people not singing the 'right' songs and it just creates this fun atmosphere in the summer for people to just come out to enjoy and relax."
Kret said her favorite numbers are "Popular" from "Wicked" and "Bend and Snap" from "Legally Blonde."
"I thought this would be so much much fun to see a group of guys singing 'bend and snap' and talking about their butts," she said. "And then 'Popular' is like this cutesy little song (with) a cute little blonde girl and then we've got Zach Morgan who was Frank (N. Furter) in 'Rocky (Horror)' singing it."
She is also excited about Gavin Alvedy singing Cathy's song "I Can Do Better Than That" from "The Last Five Years."
"It's one of my favorite songs, and I just know he is going to blow it out of the water," Kret said. "I am so excited to hear a male sing it and just crush it."
Assistant director Ashley Lyle said audiences will like seeing the creativity, talent and the different spin the performers are putting into each song.
"They will really like the different renditions of each song and enjoy it," she said.
Lyle, who is black, said there is always someone that loves a song from the opposite gender or race.
"One of my favorite songs from 'Wicked' is 'Popular.' I have always seen a white young lady playing Glinda. I would love to play Glinda," Lyle said.
Board member Chelsea Gerring said not everyone can afford to see "Wicked," or even a lot of musicals that come to town.
"It's such a good variety of songs that are put together," she said. "We have 'Hamiliton,' we have 'Wicked.' It's such a good show. I absolutely love it."
Kret said the show is about enjoyment and inclusion.
"If you want to have fun, if you want to be somewhere where anyone fits in to any standard, not only is the show but this theater is where you belong," Kret said. "It's not about how you look. It's about what you bring to the table, and this is what I think this what I think this show really captures."
Tickets ard $15, with a $2 discount for students and seniors. To order call 734-775-9635 or go to wyandottecommunitytheatre.com.
HFC ANNOUNCES UPCOMING SHOWS
In addition to the romantic comedy "Almost, Maine," which opens June 15, Henry Ford College  has announced two of its next season shows, both directed by Mary Bremer-Beer.
Molly Newman's "Shooting Stars," set in the early sixties, is about a women's basketball team who play in the style of the Harlem Globetrotter for laughs. However, it's also about the sexism of the era and the expectations for women athletes.  The show runs Aug. 3 to 13 at Adray Auditorium in the MacKenzie Fine Arts Center, 5101 Evergreen, Dearborn.
Lynn Ahrens and Stephen Flaherty's "Seussical the Musical," based on the stories of Doctor Seuss, runs Nov. 10 to 19 at the theater. For more information call 313-845-9817 or go to theatre.hfcc.edu.