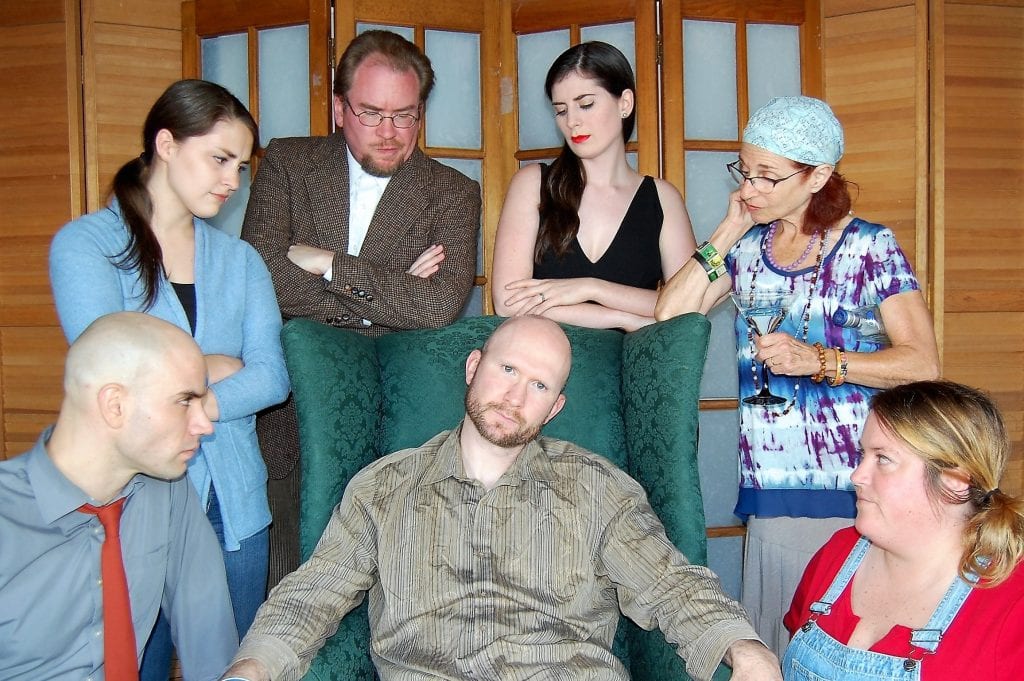 Whether young or old, rich or poor, attractive or not, most people experience times when they are lonely, longing for love and feeling that life has handed them a raw deal – that their "Life Sucks."
"Life Sucks" makes its Michigan debut at the Open Book Theatre Company, 1621 West Road, Trenton at 8 p.m. Sept. 8, 9, 15, 16, 22, 23, 28, 29 and 30, and 2 p.m. Sept. 17 and 24. The matinees include a post-show discussion with the artists.
Tickets are $20, with a $5 discount for students and seniors. Opening night tickets, $30, include an afterglow. To order, call 734-288-7753 or go to openbooktc.com.
Penned by playwright Aaron Posner, and based loosely on Chekhov's "Uncle Vanya," a play known for its melancholy characters, "Life Sucks" reveals seven characters – from the beauty who feels misunderstood to the ugly duckling whose beauty is within – with poignancy and humor.
The cast features Joshua Brown as Vanya, Jonathon Davidson as Aster, Dale Dobson as Professor, Linda Rabin Hammell as Babs, Mandy Logsdon as Pickles, Caitlin Morrison as Ella and Taylor Morrow as Sonia.
Director Krista Schafer Ewbank said she selected the play because she has always loved Chekhov's work and Posner's, whom she knew when she lived in Philadelphia.
"I reached out to him for the script  – it wasn't published yet – and fell in love with it," she said. "It has all the love and longing of the Chekhov play, but brings it into a contemporary setting that's far more accessible for the average audience member."
She said the show is a comedy that is also touching.
"People are intrigued by the name," Ewbanks said. "I think it's easy to relate to it. Have you ever felt like life sucks? Then you'll enjoy this play."
Brown said that he hopes audiences leave feeling better about their own life.
"Things get kind of horrible sometimes, people can be mean, things don't go our way," he said. "But that's life, and you're going to be OK."
Morrow said the cast has found humor in the rehearsal process, and she hopes attendees leave the show with a sense of power.
"I hope they take away that life absolutely can suck sometimes, but that it doesn't always," she said. "When it doesn't suck, we should love it and live it thoroughly."
Dobson said he hopes people find moments in the characters' lives to which they can relate and that provokes an emotional response and conversation.
"Life sucks – not always, but sometimes," he said. "There are joy and sorrows and 'meh' days,
Ewbanks said the play is about finding beauty amid brokenness.
"We are all broken in some way." she said. "Our lives are often filled with broken dreams and broken hearts. Sometimes our spirits are broken.
"Yet there is beauty to be found all around us, and inside us and others. Yes, life sucks sometimes, but not all the time."