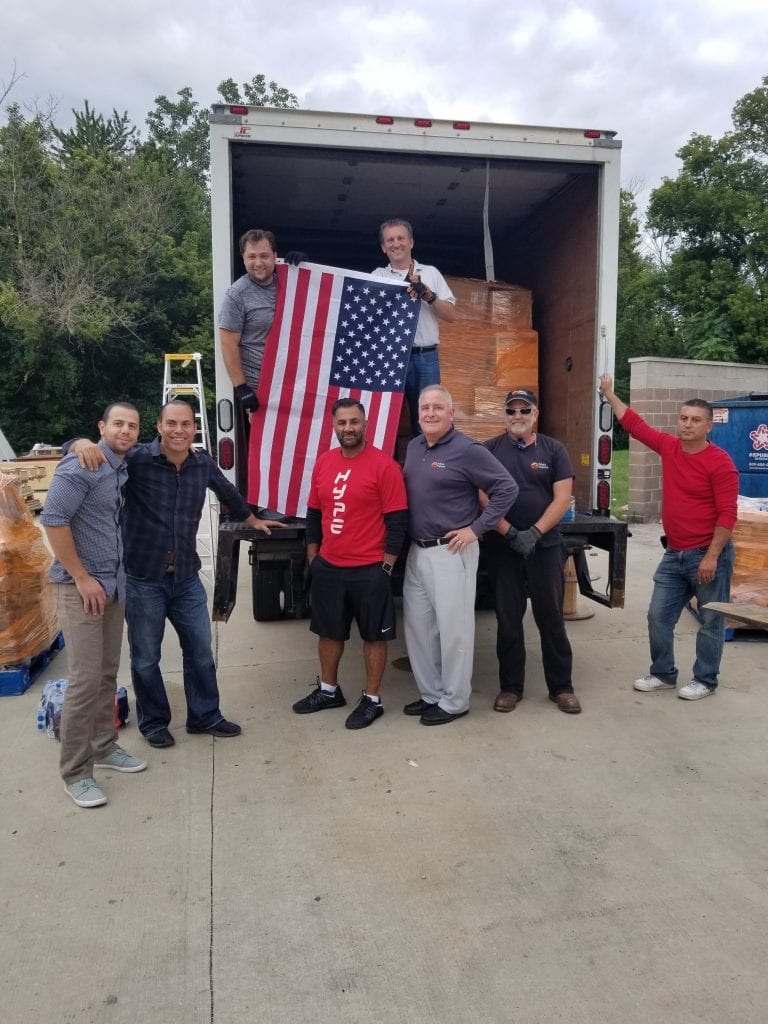 By ZEINAB NAJM
Times-Herald Newspapers
Dearborn and Dearborn Heights organizations, companies and restaurants rallied to fundraise for the victims of Hurricane Harvey in Houston.
Carhartt, Islamic Institute of America, Butcher's Grille, Ford Motor Co., the city of Dearborn, Littlefield Presbyterian Church and Hype Recreation Center are a few that planned money, supplies and clothing donations.
Hurricane Harvey made its landfall on the Houston area on Aug. 25 and continued with rain and high winds until Aug. 30. The hurricane topped 100 mph wind gusts and dropped between 20 and 40 inches of rain with a top rainfall of 51.88 inches causing flooding.
Texas Gov. Greg Abbott reported that an estimated $180 billion will be needed to cover recovery costs from the hurricane.
The biggest local effort was organized at Hype Recreation Center with One Dearborn, Project Dignity Outreach, Team City of Dearborn, Saad Wholesale Meats, Midwest Recycling, AMITY Foundation, Greenland Market, Papaya Market, A1 Valet, One Source Provider, Simone's European Fashion, Perfumeir.com, Lebanese American Medical Society and Hachams Consulting.
Donations were accepted at Hype on Sept. 5 and 6 where food, clothing, cleaning supplies, toiletries, baby bottles, formula and diapers, bedsheets gloves, buckets, trash bags, first aid kits, medicine, cash and more through Dearborn's Relief Effort for Hurricane Harvey Victims.
All items donated were packaged and placed onto two semi-trailer trucks that were driven on Sept. 6 from Dearborn to Houston-area organizations.
More donations can be made for another truck being sent to Houston next week and for the hurricane possibly heading towards Florida by going to www.projectdignitymi.org.
The Islamic Institute of America in Dearborn Heights collected money from Sept. 1 to 11 totaling over $10,000 to send as a check to a Houston organization.
Dearborn-based Carhartt has connected with four organizations to make its donations in the form of clothing and money.
It has donation bins set up in its 30 company stores around the country for the public to donate clothing which will be given to One Warm Coat for distribution.
A donation of 2,000 gloves was given to the Skills USA chapters in Texas and Louisiana, a financial donation was made to Team Rubicon and clothing donation of Carhartt clothing to Convoy of Hope.
Butcher's Grille & Markett, 22713 Michigan Ave., will donate all proceeds made on Sept. 5 at the restaurant and send it to Houston. It also has a Red Cross donation box for money collection at the restaurant until the end of the month.
The city of Dearborn collected donations from its employees and also hosted a Zumbathon on Sept. 10 at the Ford Community & Performing Arts Center as fundraisers to the Red Cross benefitting hurricane victims.
"We're grateful to see the community stepping up in a drastic way to fundraise for the hurricane victims," Public Information Director Mary Laundroche said.
Littlefield Presbyterian Church in Dearborn is encouraging the public to donate funds to the national Presbyterian Disaster Assistance.
To donate go to www. pda.pcusa.org/situation/tropical-storm-harvey. Money collected will directly benefit Houston hurricane victims.
The Ford Motor Co. Fund is contributing $500,000 to disaster relief efforts in Texas including the American Red Cross, The Salvation Army, Catholic Charities, Team Rubicon and Toolbank. Included is the purchase of four Chariot Transit Vans to support the relief effort.
Ford dealerships in the Texas area also have donated $200,000 to the Dallas Cowboys-Houston Texans telethon and are planning to raise more than $1 million to help dealership employees and local charities.
Ford also will match up to $1.5 million in disaster relief to designated community relief charities.
(Zeinab Najm can be reached at [email protected])