Frozen fire suppression pipe, sprinkler head damages Lakes of Taylor clubhouse, city hall
By SUE SUCHYTA
Sunday Times Newspapers
TAYLOR – Arctic temperatures Dec. 28 froze and broke a fire suppression system pipe at the Lakes of Taylor clubhouse and damaged a sprinkler head at city hall, causing water damage.
A sewage line in the Activity Building at Heritage Park also froze, breaking the pipe and prompting repairs.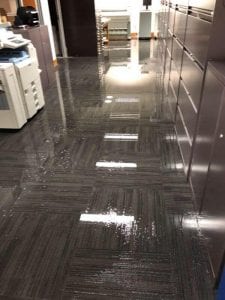 Police Chief John Blair said officers heard an audible alarm at the clubhouse and went to investigate. When they saw water running down a staircase, they contacted a buildings and grounds official for immediate intervention. Since they did not immediately know if the flooding was caused by the fire suppression system or an unrelated pipe, they notified the Fire Department as well.
New flooring recently had been installed throughout the entire clubhouse.
During the city council study session Jan. 3, prior to the city council meeting, John Rybski, general manager of Belfour Property Restoration Services, Taylor Parks Maintenance Foreman Guido Ulin and Jeff Dobek, executive director of the Golf, Parks and Recreation Department updated city officials.
Ulin said they were first called to the Lakes of Taylor clubhouse, where, near the front of the roof line, in the attic, inadequate heat flow allowed a fire suppression line to freeze and break.
"Obviously that was a little different than in city hall," Ulin said. "In the atrium, that was a sprinkler head that broke, not a line. So the head got too cold, along the window line here, and we were able to get to that one fairly quick to shut it off, and these guys were able to extract (the water)."
Ulin said when a head breaks, fewer gallons per minute of water come out of a single sprinkler head than from a 3-inch line separating, which occurred at the clubhouse.
Ulin said the sewer line that froze in the Activities Building at Heritage Park was a vulnerability of which they were already aware, and the down line that runs outside was placed where there is little insulation. He said the problem was quickly resolved.
Councilman Butch Ramik said he was amazed and grateful that no more than a trickle of water got into the museum of veteran artifacts housed in city hall.
"I cannot believe that all that water that I saw in this building and walked around in, and that little bit went through that door, and bypassed us and flooded the call center," Ramik said. "The water around the museum – very little."
Rybski reported Dec. 3 that the drying was complete at both the clubhouse and city hall.
"We will be evaluating the structure to see what repairs are necessary from this point forward," Rybski said. "But in terms of the work the city employees did, it saved some major damage. It could have been much worse than it was."
Rybski said the period of restoration will be lessened because of their quick response and actions.
Mayor Rick Sollars praised Belfour for their phenomenal response.
"We had standing water in city hall, and by 9 a.m. the next morning we were operational," he said.
Sollars said he has heard there were suppression line breaks at the Lakes of Taylor clubhouse in the past, before he was in office.
"We are going to look at not just making a repair, but making some structural changes," Sollars  said.
Dobek said he experienced a similar fire suppression line break at the Sportsplex in 2013, and one of the remediation steps they took then was to was to put a glycol (anti-freeze) loop in the fire suppression system.
"It costs a little bit more, but we could lose complete heat at the Sportsplex and not be in trouble with the suppression system at all," Dobek said. "Because there is glycol, it can't freeze."
Councilman Charley Johnson said that the attic of the golf clubhouse needs to be better insulated, a design weakness that was noted 10 years ago.
Sollars said he was concerned by the fact that people who had events scheduled at the Lakes of Taylor clubhouse heard about the damage and upcoming event cancellations on social media before they were officially contacted by the city.
"That is just not fair to them, so be sensitive to that," Sollars said. "Transparency is important, but so is timing."
Council Chairman Alex Garza said when insurance claims and legal issues are at the forefront of an incident, city officials should exercise discretion with respect to what they post on social media.
"These are all proprietary things that will be shared eventually, but there is an appropriate time for everything," Garza said.
City Communications Director Karl Ziomek said that while the city was able to dry out city hall, the Lakes of Taylor Golf Clubhouse will need more extensive repairs.
"The bad thing is we just redid the entire flooring in the clubhouse," Ziomek said. "(But) better there than at Meadows, where we have tons of dollars in new indoor simulators invested, and an entire indoor season at risk. The TrackMan indoor simulator leagues are totally filled this year, in addition to the capital investment."
Sollars said the temperatures haven't been this cold for such an extended period since the 1920s.
"This is a reminder of how cold it is outside," he said. "If pipes can break inside a heated building, imagine what it is doing outside to people and pets. This week is only going to get colder."
(Sue Suchyta can be reached at [email protected])