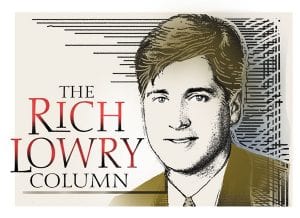 The prospect of overturning Roe v. Wade will be at the foreground of the battle over Justice Anthony Kennedy's replacement, and it should be.
Roe is judicially wrought social legislation pretending to the status of constitutional law. It is more adventurous than Miranda and Griswold, other watchwords of judicial activism from its era. It is as much a highhanded attempt to impose a settlement on a hotly contested political question as the abhorrent Dred Scott decision denying the rights of blacks. It is, in short, a travesty that a constitutionalist Supreme Court should excise from its body of work with all due haste.
Roe has been commonly misunderstood since it was handed down in 1973, in part because its supporters have been so determined to obscure its radicalism. It is commonly thought that Roe only prohibits restrictions on abortion in the first trimester, when it effectively forbids them at any time, imposing a pro-abortion regime as sweeping as anywhere in the advanced world.
Roe struck down 50 state laws and has made it all but impossible to regulate abortion, except in the narrowest circumstances. More to the point, the argument that its particular set of policy preferences is mandated by the Constitution is flatly preposterous.
Over the years, the decision's laughable constitutional inadequacy has been widely recognized. Shortly after it came down, Harvard Law School professor John Hart Ely, a supporter of legalized abortion, wrote that "Roe is bad because it is bad constitutional law, or rather because it is not constitutional law and gives almost no sense of an obligation to try to be."
The court in Roe purported to find the constitutional right to abortion in the 14th Amendment, which says that no state can "deprive any person of life, liberty, or property, without due process of law."
This passage has no obvious or even subtle connection to legalized abortion (in fact, abortion laws were being tightened in the 19th century when the amendment passed). No matter. According to Blackmun, abortion is so central to liberty that no restriction on it can stand constitutional scrutiny.
He is at pains to deny that unborn children are "persons in the whole sense." As evidence, he points to clauses in the Constitution about persons that don't have "pre-natal application," e.g., the requirement that persons must be 35 or older to run for president. This is too stupid for words. Just because clauses like this refer to adults doesn't mean that minors, or unborn children, don't have rights.
The best case that can be made for Roe is that it is a mistaken decision on the books for nearly 50 years now, so it has to be honored as a precedent. But the court is not, and shouldn't be, in the practice of standing by fundamentally flawed decisions. Brown v. Board of Education overturned Plessy v. Ferguson, which upheld segregated education, almost 60 years later. Just last week, the Court overturned a labor decision from 1977.
Roe is bad law and bad democracy. It has no sound constitutional basis, and deserves to go the way of the court's other embarrassments and misfires.
(Rich Lowry is editor of the National Review.)
© 2018 by King Features Synd., Inc.