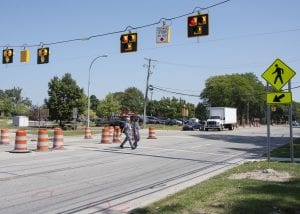 DEARBORN — A new High-Intensity Activated Crosswalk, or HAWK, was installed to make pedestrian crossing safer across four-lane Oakwood Boulevard for those traveling to and from Beaumont Hospital, Dearborn.
After weeks of work, construction on the crosswalk has been completed and is ready for hospital staff, patients and visitors to use.
The HAWK is activated when an individual walks up and pushes the button. This triggers the traffic light to turn yellow. At this time, motorists should begin to slow down. The flashing light will then turn to a solid yellow, altering motorists to stop.
Once the light turns red, all vehicles should be at a complete stop, and pedestrians will receive a walk signal. They may then walk through the crosswalk, but should still be aware of their surroundings as motorists may not be accustomed to the new system.
Beaumont, Dearborn covered the cost of the system, which totaled nearly $500,000. Beaumont collaborated with the city of Dearborn and Wayne County to install the HAWK in front of the hospital.
"Safety is paramount for our patients, families and employees," said David Claeys, president, Beaumont, Dearborn. "The completion of the crosswalk is the first in a long list of improvements we plan for campus enhancements for not only safety, but also infrastructure upgrades as well.
"Hopefully, it will also help with drivers of the area too. The crosswalk will be a good communication piece between the drivers and the people crossing the street and will help people safely navigate the traffic area.
"It's right in front of the hospital. It was a lot of money, but we saw a need, and it was the right thing to do to protect people."