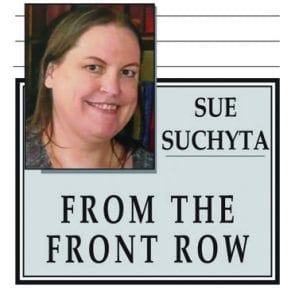 Alumni from Dearborn Heights Crestwood and Dearborn high schools will shine in the Tony and Pulitzer Prize-winning musical "Next to Normal" Jan. 17 to 19 on the CHS stage.
The show runs 7 p.m. Jan. 17 to 19, with a 2 p.m. Jan. 19 matinee at Crestwood High School auditorium, 1501 N. Beech Daly, Dearborn Heights.
Directed by Crestwood theater teacher and Roosevelt University master's degree candidate Cayla Kolbusz, the cast features Crestwood alumni Alex Krysztof as Diana Goodman and Garrett Clayton as Gabe Goodman; Dearborn alumni Maddie Kaplan as Natalie Goodman and Graham Dallas as Dan Goodman; and current Crestwood students Markus Monolidis as Henry and Ronin Castoreno as Dr. Fine and Dr. Madden.
Kolbusz said she likes to work with past students because she enjoys reconnecting with them and they inspire and mentor her current high school theater students.
She said when she started a master's program at Roosevelt University three years ago, she was given the challenge of selecting a show which she could focus on for an extended time, culminating in its production.
"I knew I needed to choose a show that I was passionate about, that I could read and listen to for a long time without getting sick of, and a show that inspired me," Kolbusz said. "I wanted a small cast so I could focus on character work that had a relevant and important message."
She said "Next to Normal," which centers on a bipolar mother and the disease's impact on her husband and two teenage children, puts the spotlight on the need to provide health care for patients and families impacted by mental illness.
Kolbusz said with most of her cast in college and one in California, scheduling rehearsals has been challenging, but she has enjoyed working with the cast.
"I hope the audience sees how much time and attention to detail went into this production," she said. "It hits home on serious and difficult issues – mental illness, grief, suicide and addiction. I hope audiences see the underlying hope throughout the story.
"The biggest lesson that 'Next to Normal' has taught me is that pain, sadness and grief are normal, and happiness does not exist without sadness."
Krysztof said the show's focus on mental illness, grief and loss is relatable but not often explored in mainstream media or musical theater.
"It's something that needs to be talked about," Krysztof said. "The music is absolutely beautiful, so if nothing else, come for the orchestra."
She said as protagonist Diana Goodman, a wife and mother struggling with mental illness, the most difficult challenge with the role is showing her character without over or underplaying her struggles.
"Everything she deals with – bipolar disorder, depression, anxiety and grief – are heavy subjects, and I don't want anything to come across as insincere," Krysztof said.
She said Kolbusz's choices impact the show's vibe.
"For example, having Fruit Loops as our breakfast cereal was a purposeful choice," Krysztof said.  "Fruit Loops are supposed to symbolize craziness, and I think it's the little decisions that take the message of the show and bring it to a whole different level."
Dallas said the show portrays the raw and gritty side of family life.
"Anyone that sees this show will be able to relate in some way to the hardships of life," he said.  "I hope people are left thinking about how they can better handle the grief and hardship in their lives, as well as assist those around them."
Kaplan said that the family tries to pretend that their lives are perfect, but as the story unfolds, the individual characters start to crack.
"I play Natalie Goodman, a strong teenage girl who is afraid to let herself feel emotion, the forgotten child," she said. "The hardest part is to find the raw feeling of being invisible to your parents. It's easy to play the angsty teen, but Natalie feels like she is the invisible glue, and as the story progresses she finds she can not deal with being forgotten."
Kaplan said she hopes audiences key on the cast's raw and genuine emotions.
"It's easy to just sing the songs nice and pretty, but to add the emotion will tug at anyone's heartstrings, and I want people to be moved by our performance," she said.
Monolidis said he is looking forward to hearing audience reactions to the show's characters and their interpretations of the show's ending.
"The dynamic of the show personifies the message through the music," Monolidis said. "This show is about a family dealing with loss and mental illness, and it will change lives."
Casteroni said the story provides insight into mental illness, and it needs to be seen.
"Key events in a person's life can affect those around them in a very big way," Casteroni said. "It has given me a new understanding of mental illness."
Clayton said rehearsals have been a labor of love for the cast, and said the vocal quality of the cast is amazing.
"There is so much heart in the story," Clayton said. "We can't wait for people to hear its message."
VIP tickets are $16, with $12 regular admission, and a $2 discount for students, seniors and district employees. To order, call 201- 500-TKTS or send an email to [email protected].
AREA ACTORS IN CONCORDIA'S 'HAMLET'
Director Gerard Dzuiblinski, longtime Henry Ford College theater faculty member, now Director of Theatre at Concordia University in Ann Arbor, directs "Hamlet" in February with a cast featuring Dearborn, Dearborn Heights and Downriver actors.
The show runs 8 p.m. Feb. 8, 9, 15 and 16 and 2 p.m. Feb. 10 and 17 at Concordia University, 4090 Geddes Road, Ann Arbor.
Wyandotte actor Tim Pollack plays the title role of Hamlet, with Dearborn residents James Piche as Claudius and the Ghost, Graham Clark Evans as Horatio, and Andrew St. John as Laertes and the Player King. Amanda Bates of Dearborn Heights plays Gertrude, with Angie Lai of Taylor as the Player Queen, and Elizabeth Reames of Riverview as Ophelia.
The production, sponsored by the Kreft Arts Program, brings special events to Concordia in collaboration with the Experimental Performing Arts Association.
Grants from the Buhr and Jensen foundations will cover ticket costs for low income students for six high school matinee performances, which run 10 a.m. Feb. 8 and Feb. 11 to 15 at the college.
For more information, contact Gerard Dzuiblinski at [email protected]. To order tickets, go to cuaa.edu/kreftarts.
TOUR OF 'RENT' AT THE FISHER IS VISCERAL, MOVING
The 20th anniversary Broadway touring company of the Pulitizer and Tony Award-winning rock musical "Rent" continues it run 8 p.m. Jan. 16 to 19, 7:30 p.m. Jan. 13 and 20, 2 p.m. Jan. 13, 19 and 20 and 1 p.m. Jan. 17 at the Fisher Theater, 3011 W. Grand Blvd., Detroit.
Two decades have passed in a blink of the eye since its debut, and while AIDS cases are rarely in the headlines these days, the coming-of-age musical of struggling young artists dealing with affairs of the heart and finance is as poignant and gut-wrenching as it was when the spotlight first lit its cast and brought the Bohemian theme to the stage.
The music continues to haunt one as well, from the heartbreaking "One Song Glory" to the raucous title song "Rent." Other memorable musical moments include, "I Should Tell You," "La Vie Boheme," "Light My Candle," "Tango Maureen," and "Seasons of Love."
Tickets start at $39, and are available by calling Ticketmaster at 800-982-2787, or by going online to Ticketmaster.com or BroadwayInDetroit.com.
SLIPSTREAM'S 'THREE TALL WOMEN' IS FASCINATING, WELL-PERFORMED
Playright Edward Albee's third Pulitzer Prize-winning drama, "Three Tall Women," at the Slipstream Theatre Initiative, takes three strong women at different points in their lives and merges their personalities in an attempt to understand his adoptive mother, with whom he had a contentious relationship.
The show continues 8 p.m. Jan. 12, 18, 19, 25 and 26, and 7 p.m. Jan. 13, 20 and 27 at the Slipstream Theatre Initiative, 460 Hilton Road in Ferndale.
Adeptly directed by Bailey Boudreau, the show features the strong ensemble of Maggie Alger, Jeannine Thompson and Maggie Gilkes. The three form a tight, cohesive cast, and work well together, bringing out both the prickly and lovable aspects of each woman's personality.
Anyone who has cared for an aging relative with dementia can appreciate the frustration of the young and middle-aged women tasked with caring for an aging matriarch who has been essentially left alone with her dwindling wealth and disappearing mind.
Albee takes it a step further, and by the second act the two younger women appear to be the earlier incarnations of the older woman at significant turning points in her life, helping the audience and the dying woman understand how she got to this point in the journey, why her son is estranged, and how her choices impacted her and others.
While Albee may have meant to paint an unflattering picture of a cold, homophobic mother, audiences find reasons to feel compassion for a confused, lonely woman who didn't know that her puritanical mindset would leave her bereft and alone.
While the younger women are warned of the impact of their future choices, it is unclear whether the playwright meant to reinforce the oldest woman's angst or offer the younger versions of his mother a cerebral shot at redemption by warning them of the consequences of their future mistakes.
Albee, who died two years ago, perhaps has a shot at changing the attitudes of select audience members. One hopes he exorcised some of his own personal demons as well.
Tickets are $12, and available at slipstreamti.com.
RINGWALD'S 'SIGNIFICANT OTHERS' IS ENTERTAINING, WELL CAST
From playright Joshua Harmon and the Ringwald comes the touching and humorous comedy, "Significant Others," which looks at the life of Jordan, a gay young man who is best friends with three young women, who each unexpectedly fall in love and marry, leaving him feeling left behind, still waiting for Mr. Right.
The show continues at 8 p.m. Jan. 12, 14, 18, 19, 21, 25, 26 and 28, and 5 p.m. Jan. 20 and 27 at the Ringwald, 22742 Woodward in Ferndale.
The script is delightful, but the strong cast, which the Ringwald has, is crucial to making the show work, as the dialogue is fast and furious, and lines overlap and are delivered with heartfelt emotion.
Audiences will feel like they are eavesdropping on a close circle of friends seated nearby at a bar or wedding reception, and will recognize aspects of their own relationships in the cohesive ensemble.
The show passes quickly, and by the time it's done you feel like you know each of the characters and have been drawn into their quirky and human stories.
Wonderfully directed by Brandy Joe Plambeck, the talented and cohesive cast includes Matt Wallace in the lead as Jordan, with Meredith Deighton, Annie Dilworth and Jaye Stellini as his three delightful female friends, Jean Garringer as Jordan's wonderful grandmother, and with Andrew Barikmo and Allen Wiseman each adroitly playing multiple characters. All the actors have fast costume changes thrown into the mix to keep things interesting.
Friday, Saturday and Sunday tickets are $20, with $10 Monday tickets. Call 248-545-5545 for information about the show. To order tickets online, go to TheRingwald.com.