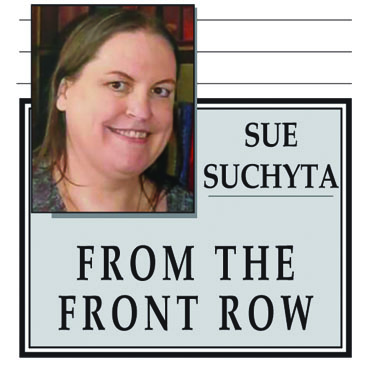 Sixties-era women explore the airtight seal of Tupperware and their own repressed, conforming lives, with hilarious results, during a party gone awry in the Downriver Actors Guild's "Sealed for Freshness."
The show runs 7:30 p.m. April 11 to 13, and 3 p.m. April 14 at the Catherine A. Daly Theatre on the Avenue, 2656 Biddle, Wyandotte.
Directed by Liza Altenberg of Allen Park and assistant directed by Jema McCardell of Trenton, the cast includes: Dearborn Heights residents Amanda Bates as Sinclair Benevente and Anita Ganzak as Bonnie Kapica, Trenton residents Kelly Lomas as Jean Pawlicki and Taeryn McCardell as Tracy Anne McClain, and Wyandotte residents Kathy Bedekian as Diane Whettlaufer and Chuck Ingram as Richard Kapica.
Altenburg said show combines two of her passions: theater and helping women gain independence by running their own businesses.
"I've spent my life in the direct sales industry, just like the Tupperware lady in the show," she said. "We can all see pieces of ourselves in the characters onstage. Sometimes that connection pulled smiles from the cast, and other times it forced an honest look in the mirror."
Altenburg said it was a challenge early in the rehearsal process to get through some of the scenes without the cast and crew laughing.
"This hilarious show about a '60s Tupperware party gone awry with have you doubled over in laughter and wiping emotional tears from your cheeks," she said. "You will definitely leave with a smile."
Altenburg said seeing a show set 50 years ago will make women aware not only of how far they have come, but how far they still have to go.
"Our lives aren't nearly as different as the women in the '60s as we would like them to be," Altenburg said.
Bates compares her character to a modern day mean girl, who is quick to reveal others' secrets and flaws while enjoying it.
"I enjoy ensemble pieces immensely," she said. "The script is funny and endearing, even though there are points when you absolutely know a man wrote it."
Bates said the show has a range of both lighthearted and dark humor, in addition to surprises.
"The actors tell a story that is funny and deep," she said. "I hope (audiences) realize the importance of the people in their own lives."
Bedikian, who plays Diane, the Tupperware lady, said her product-driven, no-nonsense character has some secrets of her own.
"The '60s were a pivotal time for women, and brought a second wave of feminism," she said. "Tupperware parties empowered women and provided them with an economic stronghold. The characters were changing with the tumultuous times, and they may not have even realized it."
Bedikian said audiences will enjoy the show as they realize how far women have come in the past 50 years.
"I hope they sense how far women have come in terms of the opportunities available to us, how we see ourselves in a larger world context, and are inspired to continue to support women and girls economically, educationally and socially," she said.
Ganzak said in addition to audiences gaining insight into what women faced during the '60s, she hopes they recognize it is more than a comedy.
"It has a lot of hysterical moments," she said. "In addition to humor, the show has some dark moments that make it intriguing."
Lomas said her character, who appears to have her life together and who works hard to keep up appearances, is actually envious of her sister's freedom to be outspoken and candid.
"I'm learning to understand what motivates her," Lomas said. "It is a way to examine our own roles in life, and to decide whether or not we like that role, want to change it, or should keep playing it 'as is' because it suits them best."
Lomas said the cast has laughed together at rehearsals while pushing each other to be their best.
"We have done this since the beginning," she said. "I want them to remember our chemistry and our characters, and I really need some laughter right now."
Tickets are $14, with a $2 discount for students and seniors. To order, call 734-407-7020 or go to downriveractorsguild.net.