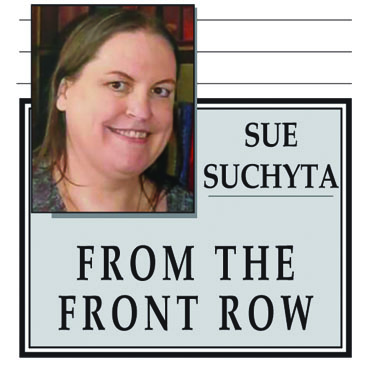 When relatives' personalities collide, the bride's ex-boyfriend shows up and marital mayhem ensues, settle back in your seat at the Players Guild of Dearborn to watch the Steinberg-Howard wedding unfold in the musical "It Shoulda Been You."
The show runs 8 p.m. May 3, 4, 10, 11, 17, 18, 24 and 25, and 2:30 p.m. May 5, 12, 19 and 26 at the theater, 21730 Madison, Dearborn.
"It Shoulda Been You," with book and lyrics by Brian Hargrove and music by Barbara Anselmi, is directed by directed by Marc Walentowicz of Garden City, who said it's a wedding story with twists and turns.
"It's the universal story of love and family, and how both can be as frustrating as they are rewarding," he said. "It's the perfect musical, with all the elements of a classic storyline, with the wedding and wackiness that surrounds it, but also twists and turns the audience won't see coming."
Walentowicz said his goal was to cast people who were believable as family.
"All of the characters are shades of gray, as in life," he said. "What makes it special are the people."
Sebastian Adams of Dearborn, who plays the wedding planner, Albert, said audiences will enjoy the show as they identify with the personalities the family members portray.
"Everyone has family, chosen or not," Adams said. "This musical portrays a family wedding where everything goes wrong, but through it all, the family is there to show tough love and support."
Emily Kaltz of Dearborn, who plays Annie Sheps, said while the audience may identify with the characters, they realize as the show progresses that what they thought motivated a given character may not be what they initially thought.
"The plot seems simple at first, and the audience will assume the plot is heading in one direction, but surprises keep coming as this wedding day unfolds," she said. "Indeed, everything the audience thinks they know turns on a dime, but not before the audience is completely drawn in by the music and dancing."
Colleen Meade-Ripper of Livonia, who plays Judy Steinberg, said her character is the ultimate mother-of-the-bride.
"She has so many layers of emotion during the entire show, with a limited understanding of how she affects people," Meade-Ripper said.
Kimberly Elliot of Canton Township plays the bride, Rebecca Steinberg, with Jamee Perryman of Oak Park playing her sister, Jenny Steinberg.
Others in the cast include Dearborn residents Graham Dallas as Greg Madison, Julie Ballantyne Brown as Aunt Sheila and Maddie Kaplan as Mimsy; Dearborn Heights residents Casey Coulter as Brian Howard, the groom, and Ebraheim Awad as Walt; Detroit residents Kenyada Davis as Marty Kaufman, Thomas Downey as Murray Steinberg and Walter Middlebrook as Uncle Morty; Tim Carney of Livonia as George Howard; and Jackie Abercrombie of Southgate as Georgette Howard.
Tickets are $20, and are available by phone, at 313-561-TKTS or online at playersguildofdearborn.org.