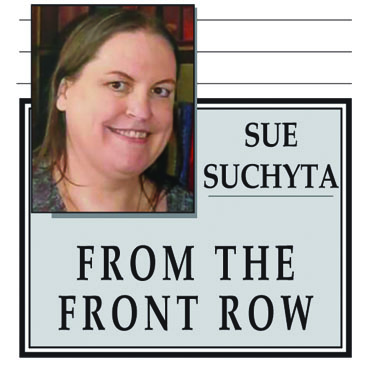 Make no bones about it: The Downriver Actors Guild production of Disney's "101 Dalmatians Kids" is doggone funny, so follow the barks down Biddle to see why tails are wagging.
The show runs 7 p.m. June 21 and 22, and 3 p.m. June 22 and 23 at the Catherine A. Daly Theatre on the Avenue, 2656 Biddle, Wyandotte. The show is double cast, with the Chihuahua cast performing 7 p.m. June 21 and 3 p.m. June 22, and the Poodle cast performing 7 p.m. June 22 and 3 p.m. June 23. The show runs for 30 minutes without intermission.
Jaelin Szdlowski, who plays Cruela De Vil in the Poodle cast, said she loves theater, as well as discovering new ways to express herself as she explores the character she plays.
"I think the theater is a really good place to see people perform and express themselves," Szdlowski said. "They are a whole different person on stage than they are in real life."
Student assistant Madison Ganzak said "101 Dalmatians Kids" is a fun-filled show with many enthusiastic children in the cast. She said the storyline follows the movie, but the live action on stage adds to the story's potential.
"My favorite number is the opening conga line," Ganzak said. "It's the introduction to the show and it gives off a 'wow – you are about to see an amazing show.' It is fun, and makes you want to get up and dance."
The show is co-directed by Melanie Aue of Taylor and Kimberly Elliot of Canton Township.
Aue encourages theater lovers of all ages to see the show.
"We have such a strong theater community, I think it's important for everyone to see the whole process," she said. "This is the very beginning foundation of DAG. They start when they are little kids, so I think it is cool for adults who don't have a kid in the show to see where it starts. It's nice to see them as children, and then you can come back later and see them in a teen show, and then the next thing you know, they are in the adult shows. It is really cool to see the full circle."
Aue said the cast has so much energy, they keep her and Elliot on their toes non-stop.
Aue said the show is an immersive experience for the young actors.
"We actually did a whole day where we talked about different words that you use in the theater, like stage left, stage right, upstage and downstage, and project," she said. "They learned what blocking is, and choreography. We try to do a little bit of everything. It's not just the show. They are learning about theater itself."
Aue said the children learn about stage sets, where the sound comes from, in addition to learning their lines and songs, and the older cast members take on the role of mentors to the younger cast members as well.
Aue said the "Cruella De Vil" song from the movie, about the villain we love to hate, is in the show.
Elliot added that the show is a story everyone knows, performed in a cute and charming way.
"It is great for kids to come see their friends, it is great for older people to come and see the youth and it is not too much of a time commitment," Elliot said.
She said the cast members are good kids and hard workers.
"They love what they are doing," Elliot said. "You catch on to the joy that they have."
The Chihuahua cast includes: Allen Park residents Delainie Eskin as Penny, and Sierra and Aubree Johnson as Policemen; Brownstown Township residents Riley Barbee as Cruela De Vil, Calleigh Butler as Anita, Selah Kolasa as Perdita, Violet Kolasa as Poodle, and Lola Valchine as Jasper.
Also, Riverview residents MaryKate Lassiter as Pongo and Brooklyn Moineau as Sergeant Tibbs; Southgate residents Elizabeth Breault as Chihuahua, Carly Serpetti as Roger and Cassie Serpetti as Nanny; and Taylor residents Norah Aue as Lucky, Blake Berringer as Horace, Lilly Erwin as Patch, Kaylyn Messer as Poodle Narrator and Charlotte Trudeau as Scottie.
Also, Trenton residents Joanna Bailey as Boxer Narrator and Scottie Narrator, and Nora Borne as Pepper; and Wyandotte residents Will Pratt as Freckles, Max Pratt as Spotty, Addison Sauve as Chihuahua Narrator, and Abbie Simmons as Boxer.
The Poodle cast includes: Isaac Clark of Allen Park as Poodle Narrator; Mia Loomis of Brownstown Township as Scottie; Flat Rock residents Delilah Sucharski as Perdita and Lincoln Sucharski as Sergeant Tibs; and Ryder Luton of Grosse Isle Township as Pepper.
Also, Joshua Dauzy of New Boston as Poodle; Nerrance Conner of Riverview as Pongo; and Trenton residents Katherine Bouquenoy as Roger, Isaac Essenmacher as Patch, John Essenmacher as Freckles, Liliana Karpinski as Boxer Narrator, Stella Karpinski as Nanny, Vada and Etta Mast as Policemen, Candace Pisarzewski as Boxer, Benjamin Rossi as Lucky, Jaelin Szydlowski as Cruea De Vil and Harlow Szydlowski as Spotty.
Also, Wyandotte residents Aniyah Bryant as Scotty Narrator, Lia Lenihan as Chihuahua Narrator, Lucille Lester as Penny, Alaina Lough as Chihuahua, Vivian Nordstrom as Anita, Ethan Nordstrom as Horace and Nadia Pers as Jasper.
Playing dogcatchers with both casts are Alyssa Zulewski of Grosse Ile Township and Aaron Aguila of Taylor.
Tickets are $10. To order, call 734-407-7020 or go to downriveractorsguild.net.