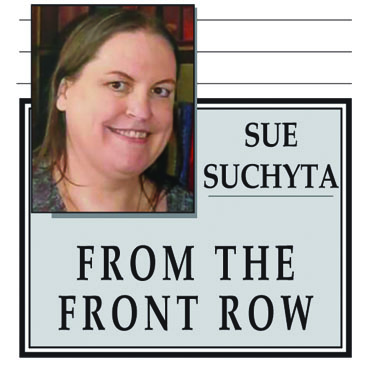 A double dose of the irreverent, underdog show, "Shrek – the Musical" delights audiences at two venues, running two weekends at the Downriver Actors Guild in Wyandotte, and one weekend with the Dearborn Summer Youth Theatre at the Ford Community & Performing Arts Center in Dearborn.
The DAG show runs 7:30 p.m. July 26 and 27, and Aug. 2 and 3, and 3 p.m. July 28 and Aug. 4 at the Catherine A. Daly Theatre on the Avenue, 2656 Biddle, Wyandotte.
Directed by Nathan Vasquez, the cast includes Kyle Harwood of Westland as Shrek, Kimberly Elliott of Canton Township as Princess Fiona, Nick Brown of Monroe as Donkey and Logan Laflin of Southgate as Lord Farquaad.
Melanie Aue of Taylor, who plays the Dragon and Humpty Dumpty, said she grew up loving the movie, and after seeing the stage musical, knew she would someday want to perform in it.
"The songs are great, and it is really a show that is great for the ensemble," she said. "We have all the fun parts and scenes."
Aue said there is humor that both children and adults will enjoy.
"There is inuendo that might go over the kids' heads that the adults will get to chuckle at," she said.
Aue said the costumes and big dance numbers will appeal to audiences.
"The costumes are incredible," she said. "They are so detailed, fun and ridiculous. And we have really punched up the dancing. There's a big tap number, and there is a lot of spectacle. All the dances have something unique and special about them. There is a lot to see."
Laflin, as Farquaad, said dancing on his knees is not something an actor gets to do very often, and the vocal range of Farquaad's songs fits his voice well, and lets him ham it up as the bad guy one loves to hate.
"I want to make everyone hate me, but love me at the same time," Laflin said.
Vasquez, as director, said in addition to the political parallels, he likes the challenge of bringing a big production to the Downriver Actors Guild's intimate stage.
"It's funny, hilarious and has many great characters," he said. "And the theater gods kissed the show and said, 'Here is an amazing cast,' and I pinch myself everyday thinking of how amazing the talent is."
Vasquez said the ensemble is as strong as the leads.
"Any one of them could play a lead, and that is what I wanted from the get-go, an amazing, all-around triple threat cast, and I have been blessed with it," he said.
Vasquez said that while the show was written in 2008, it fits well into today's political climate.
"Without being too political or too pushing, I hope that people get a little bit of that from this show, that it comes to mind when they are watching it," he said. "It is for adults, but kids also find the humor hilarious. It definitely speaks to a wide audience range."
Elliott said her character, Princess Fiona, is appealing to a wide audience as well, and she gets to have her princess-y moments as well as humorous scenes.
"She is not your normal princess, so it is fun to watch her progress and find her way, and be silly as well as charming," she said. "She is trying to find herself, like we all are."
Elliott said the show has both humor and heartwarming moments.
"It's not just funny, like the movie," she said. "And even if you don't like the movie, there is something you'd love here in the musical."
Also in the cast are: Park Forgach of Brownstown Township as Young Shrek; Benjamin Apostle of Dearborn as the Captain of the Guard; Dearborn Heights residents Amanda Chatila as Sticks and one of the Blind Mice, and Emily Noble as Gingy and Sugar Plum; and Sherry Irving of Riverview as Bricks.
Also, Southgate residents Sydnee Corbin as the Wicked Witch and Queen Lillian; Donald Corbin as Thelonius, Papa Bear, Papa Ogre and a knight; Erin Hansen as Young Fiona, and Colette Serpetti as Straw.
Also, Taylor residents Bryan Aue as Wolf, King Herald, and a knight; Sydney Bramlett as Teen Fiona and Ugly Duckling; and Dylan Hart as Peter Pan and a knight.
Also, Fiona McCardell of Trenton as Young Fiona; Westland residents Ashley Gatesy as an elf and one of the Blind Mice, and Kayla Harwood as Mama Bear and Mama Ogre; and Wyandotte residents Joshua Gray as Pinocchio, Gerald Hymer as the Mad Hatter and a knight, and Amy Parenteau as Baby Bear and one of the Blind Mice.
Tickets are $18, with a $2 discount for students and seniors. For more information, or to order, call 734-407-7020 or go to downriveractorsguild.net.
DEARBORN SUMMER YOUTH THEATRE PRESENT FULL VERSION OF 'SHREK – THE MUSICAL'
No high school or junior version for the Dearborn Summer Youth Theatre cast, as they present the full adult version of "Shrek – the Musical" for a one-weekend, three performance-run.
Show times are 8 p.m. July 26, and 2 and 7 p.m. July 27, at the Ford Community & Performing Arts Center, 15801 Michigan Ave.
Directed by Rashid Baydoun, the show features a cast of 66 talented performers telling the tale of an unlikely ogre hero, a feisty princess and an annoying and talkative donkey.
Joseph Smentowski of Farmington plays Shrek, with Aline Hazime of Dearborn Heights as Princess Fiona, Olivia Kirk of Dearborn as Lord Farquaad and Jameel Baksh of Dearborn as Donkey.
Tickets are $15, and available by calling 313-943-2354, or online at dearborntheater.com.
THEATER PROFESSOR GERRY DZUIBLINSKI LOSES BATTLE WITH CANCER
Longtime Henry Ford Community College professor Gerald "Gerry" Dzuiblinski, 64, lost his battle with cancer July 4, and was remembered during a memorial service July 14 at Concordia University in Ann Arbor, where in 2013 he became the theater director.
Dzuiblinski was born Sept. 23, 1954, in Detroit to Irene and Arthur Dzuiblinski. He leaves his daughter, Illyana (Dzuiblinski) Blevins, granddaughter Taylor Moore and grandson Jeremy "J.J." Moore.
He studied movement and mime with Marcel Marceau's troupe, and was the founder of Fool Troupe in the Detroit area in the early 1980s, which used music, movement and the performing arts.
Dzuiblinski taught at HFCC for decades, and in 1994 became the theater's technical director. He also championed the Theater for Young Audiences program.
His final production as a director and actor was in Shakespeare's "Hamlet" at Concordia University, where Dzuiblinski was able, through the use of educational grants, to introduce Shakespeare to low income high school students.
For more information, go to legacy.com/obituaries/name/gerard-dzuiblinski-obituary?pid=193350590.