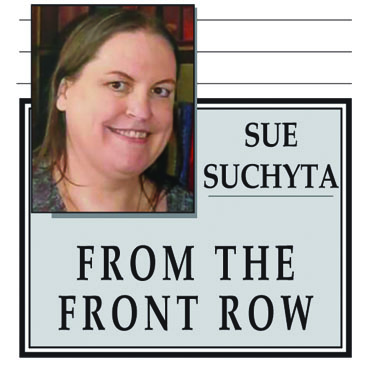 Learning about each other's struggles from the inside out is the ultimate mother-daughter tale, as Downriver Youth Performing Arts Center's production of Disney's "Freaky Friday – the Musical" follows a teen daughter and a working mom who inexplicably end up in the other's shoes – and bodies.
The show runs 7 p.m. Aug. 9 and 10, and 2 p.m. Aug. 10 at the Trenton Village Theater, 2447 W. Jefferson, Trenton.
Allen Park resident Liz Altenburg directs the show, with musical direction by Sarah Altenburg of Allen Park, and choreography by Elizabeth Rutowski of Riverview.
Liz Altenburg said she fell in love with "Freaky Friday – the Musical" several years ago when she discovered it while she was directing "Next to Normal," which also featured music and lyrics by Tom Kitt and Brian Yorkey.
"About a year later, I had the opportunity to go to Cleveland and see the show on stage," she said. "I remember sitting in the theater thinking, 'I can't wait to direct this show!'"
She said the show's vocal score is challenging for her teen cast.
"This teen cast is among the hardest working I have ever worked with, and watching them rise to every vocal and dance challenge has been a lot of fun to watch," she said.
She said the show's positive message is powerful as well.
"Every parent, child and sibling who have made it through the teen years will be able to relate to this heartwarming story, while laughing and maybe shedding a nostalgic tear," she said. "I hope audiences leave with a smile."
Joslyn Kaiser of Flat Rock, who plays the teen daughter, Ellie Blake, said she enjoys being part of DYPAC's summer productions, and she found the "Freaky Friday" music and comedy appealing.
She said it is challenging to play two different personalities on stage.
"In a matter of seconds, I become a whole new person on the inside," she said. "It was a difficult transition at first, but it really made this role an exciting part to play."
Sara Huffmaster of Trenton, who plays the mother, Katherine Blake, said she also enjoys doing DYPAC's summer shows, and is pleased to play a character with wit and a wide range of emotions.
"The most challenging thing for me has been trying to let loose and developing a loud, sloppy character, which I am not used to playing," Huffmaster said.
She said the talent of the cast and crew will shine throughout the play.
"The hard work we have put into the show radiates through our performance, and impacts the intensity and energy of the show. It's an experience you don't want to miss," Huffmaster said.
The cast also includes Allen Park resident Noah Clark as Senor O'Brien; Brownstown Township residents Charlotte Clavet as a student, Nina Nelson as Gretchen and Elaina Primeau as Hannah; Carleton resident Madison Carlton as Laurel; Dearborn resident Veronica Bailo as the fish vendor; and Dearborn Heights resident Nada Almaliki as Adam's mom.
Also, Flat Rock residents Camrin Boettcher as Wells, Issabella Cash as Ms. Meyers, Molly McCallum as Mrs. Luckenbill, Brendan Robinson as Dr. Ehrin and Kayla Rodriguez as Parker; Gibraltar resident Bela Bienko as Danielle; Grosse Ile Township residents Luke Markley as Officer Kowalski and Nolan Swamy as Adam; Lincoln Park resident Grace Ray as Gretchen's mom; and New Boston residents Lexi Gambino as Savannah and Gracie Grams as a student.
Also, Riverview residents Alexandra Czata as the catering waiter and Dylan Seets as Louis; Rockwood residents Olivia Kunkle as Officer Sitz, and Austin Sims as Grandpa Gordon and as Parker's dad; Southgate resident Gabriella Godfrey as a student; and Taylor resident Gwen Ryan as one of Savannah's mean girls.
Also, Trenton residents Anna Bruce as Torrey, Katie Loger as Mrs. Time, Nina Lomas as one of Savannah's mean girls, Duncan McCardell as Mike, and Carter Stover as Pastor Bruno; Woodhaven resident Kyle Cronan as Mr. Blumen and as Well's dad; and Wyandotte residents Madeline Baker as the florist, Sarah Cagle as Grandma Helene, Grace Harper as Savannah's mom and Parker Watson as Fletcher Blake.
Tickets are $12, with a $2 discount for seniors, students and children. Preferred seating in the front rows is $15, which includes a backstage tour. To order, go to dypac.com.