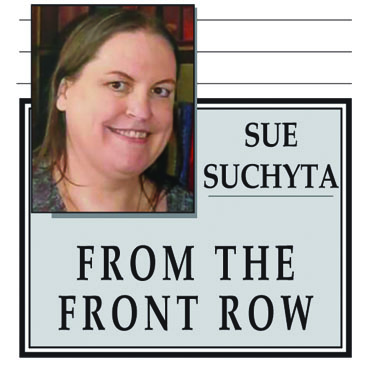 The heart-warming story of "Come from Away," set in a small Newfoundland town, where 7,000 airline passengers were forced to land on Sept. 11, 2001, comes to the Fisher Theater with the award-winning musical in its first North American Broadway tour.
The show runs 8 p.m. Oct. 1 to 5, and 8 to 12; 7:30 p.m. Oct. 6 and 13; and 2 p.m. Oct. 5, 6, 12 and 13 at the Fisher Theater, 3011 West Grand Blvd., Detroit.
The Tony Award-winning musical comes to Detroit for the first time, telling the story of a small town that welcomed travelers from around the world when tragedy struck.
With book, lyrics and music by Irene Sankoff and David Hein, "Come from Away" tells a true story that began when 38 planes were ordered to land in Gander, in the province of Newfoundland and Labrador, Canada.
The characters are based on the town's residents and the stranded passengers they housed and fed.
The moving story covers the culture clashes and nervousness which turned to trust, as strangers became friends in the welcoming haven. The musical, described as both stirring and unpretentious, shows how the goodness of ordinary people shine their light in a time when evil had caused havoc and pain worldwide.
The playwrights visited Gander in 2011, on the 10th anniversary of 9/11, and interviewed residents and returning passengers. They translated some stories directly into the musical, while other stories were merged.
The show, which launched in 2013, debuted on Broadway in 2017, where it continues to run. A Canadian company is currently running in Toronto as well. Plans for a feature film are also in the works.
Tickets start at $39, and are available by phone, at 800-982-2787, or online at BroadwayInDetroit.com or ticketmaster.com.
WSU HOLDS YOUTH AUDITIONS FOR 'A CHRISTMAS CAROL,' AND 'MARY POPPINS'
Wayne State University invites children ages 6 to 14, and no taller than 5 feet tall, to audition for roles in "A Christmas Carol" and "Mary Poppins – the Broadway Musical" at 10 a.m. Oct. 12 in the rehearsal rooms on the fourth floor of Old Main, 480 W. Hancock Street, Detroit.
Youth roles in "A Christmas Carol," which runs Dec. 4 to 15, include Young Ebenezer, Tiny Tim and the children's ensemble. Children's parts in "Mary Poppins," which runs April 10 to 19, include Jane and Michael Banks.
Parents may direct questions to 313-577-3508 or [email protected]
P.S. CENTER STAGE PLAYERS HOLDS AUDITIONS FOR 'THE LITTLE PRINCESS'
Auditions for a musical version of "The Little Princess" will be held by P.S. Center Stage Players from 1 to 5 p.m. Oct. 20 at First United Methodist Church, 72 Oak St., Wyandotte. Performances are Feb. 20, 21, 27 and 28 at the Jo Brighton Auditorium, 4460 18th St., Wyandotte. Auditions will include cold readings from the script, learning a short dance, and singing a one-minute vocal selection of the auditionee's choosing. Call 734-771-0590 or [email protected] for more information.
OBTC, PGD OFFER STRONG, DELIGHTFUL PERFORMANCES
Two engaging, entertaining non-musicals continue on local stages: The Trenton-based Open Book Theatre Company's "The Watson Intelligence," which runs through Oct. 12, and the Players Guild of Dearborn's "You Can't Take it with You," which runs through Sept. 29 at the theater.
"The Watson Intelligence" follows three actors playing multiple roles in three different eras, which shows how technology impacts the way we interact and form relationships, but in an emotional, non-mechanistic way. From the Watson who was Bell's sidekick, to a humanlike Watson robot, we see how communication devices changed our world, while at the same time we are still searching for the empathy needed to nurture one another.
Wonderfully directed by Krista Schafer Ewbank, the show stars three talented actors: Joe Zarrow as Watson, Annabelle Young as Eliza and Patrick Loos as Merrick. The stories are engaging, fast-pasted, and fascinating.
The run continues at 8 p.m. Sept. 21, 27 and 28, and Oct. 4, 5, and 10 to 12; and 2 p.m. Sept. 22 and 29, and Oct. 6 at the Open Book Theatre Company, 1621 West Road, Trenton.
Tickets are $25, with a $5 discount for seniors and a $10 discount for students. To order, or for more information, call 734-288-7753 or go to openbooktheatrecompany.net/tickets.
"You Can't Take It with You" offers a talented cast in a well-performed piece of classic theater, with a story which is relevant to the present day.
A quirky family, not all related by DNA, live happily in a large, rambling house during the Great Depression, doing whatever makes them happy. When one of the daughters asks them to act "normal" for one evening to impress her fiancé, the stage is set for madcap mayhem and laughter as just about anything that can go wrong, does.
The show, capably directed by Debbie Pletzer, features a strong ensemble cast. The pacing is good, the acting entertaining, and the storyline strong, making the classic comedy a strong start to the Players Guild's 92nd season.
The run continues at 8 p.m. Sept. 21, 27 and 28, and 2:30 p.m. Sept. 22 and 29 at the theater, 21730 Madison, Dearborn.
Tickets are $18, with a $2 discount for students with valid identification. To order, call 313-561-TKTS or go to playersguildofdearborn.org.