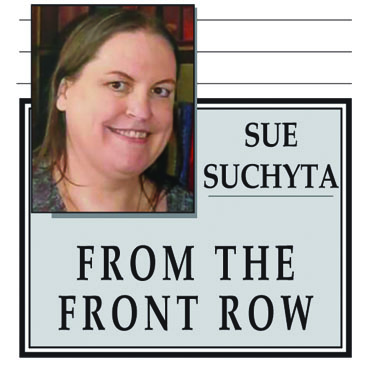 From gazing at the stars to being recognized as one, local thespians are letting their light shine in local theaters.
Woodhaven actress and Trenton's Open Book Theatre Company artistic director Krista Schafer Ewbank appears as a guest artist in the Detroit Mercy Theatre Company's "Silent Sky," while volunteer star of the stage and behind-the-scenes Tom Sparrow of Allen Park was honored for his work at the Players Guild of Dearborn by Hannan Center at its annual "70 Over 70" Awards.
Meanwhile, emerging stars in Wyandotte generate laughter with P.S. Center Stage Players' "How to Eat Like a Child."
SCIENCE, EARLY FEMINISM, SISTERHOOD SHINES IN 'SILENT SKY'
While seeking the stars in the sky, earlier astronomer Henrietta Leavitt set her sights high, as chronicled in the Detroit Mercy Theatre Company production of the Lauren Gunderson play "Silent Sky," which is based on the early female astronomer's life.
The show runs 7:30 p.m. Oct. 17 to 19 and 24 to 26, and 3 p.m. Oct. 20 and 27 at the Marlene Boll YMCA Theatre, 1401 Broadway, Detroit.
The play follows the discoveries and challenges of 19th century astronomer Henrietta Leavitt, who lived in an era where women were neither given the freedom to vote nor were taken seriously in academic pursuits.
Leavitt and her colleagues made groundbreaking discoveries at the Harvard Observatory, despite women being disallowed from even touching a telescope. The play dramatizes the contributions of a group of extraordinary women, early feminists who changed the way the world envisioned the heavens as well as female scientists' role on Earth.
Directed by Sarah Hawkins, the cast includes Ewbank as Williamina Fleming, Nina Carlson of Flint as Annie Cannon, Amelia Rose Glenn of Highland Township as Henrietta Leavitt, James Hardy of Bloomfield Hills as Peter Shaw, and Elise Pannemann of Clinton Township as Margaret Leavitt.
The opening night performance will be preceded by a 5:15 p.m. symposium of scientists to discuss the challenges in their respective fields for people of different cultural, racial and gender identities. The symposium will take place on the UDM main campus, 4001 W. McNichols, in room 114 of the chemistry building. The symposium is a joint endeavor of the Chemistry and the Women and Gender Studies programs.
On Oct. 18, the UDM Women and Gender Studies program will lead a discussion on first-wave feminism and its social impact, followed by an Oct. 26 overview by professors from UDM's College of Engineering and Science on Leavitt's contributions.
On Oct. 20 the cast and crew will hold a post-show discussion about the process of bringing a play to life.
General admission is $25, with a $7 discount for seniors. Tickets for student and veterans are $10 with identification. Opening night tickets are $17 for UDM faculty, staff and alumni, and $5 for UDM students with identification. The Oct. 24 show features $5 tickets for any student with valid identification. Closing night, Oct. 26, will feature $15 ticket prices for all attendees.
To order tickets, or for more information, call 313-993-3270 or go to DetroitMercyArts.com.
P.S. CENTER STAGE PLAYERS PRESENT 'HOW TO EAT LIKE A CHILD'
Wyandotte's P.S. Center Stage Players tackle the musical comedy "How to Eat Like a Child and Other Lessons in Not Being a Grown-Up," with a script by original book author Delia Ephron, with John Forster and Judith Kahan, and music and lyrics by John Forster.
The show runs 7 p.m. Oct. 17, 18 and 24 at Jo Brighton Auditorium, 4460 18th St., Wyandotte.
The fast-paced show takes a tongue-in-cheek approach to portraying the trials and tribulations of being a kid, in 23 lessons, from how to beg for a furry friend, how to make a sibling miserable, ways to subversively respond when sent to one's room, and even how to laugh hysterically.
Directed by Penny Lynn Siler, the cast includes Ryleigh Farrell, William Gentles, and Heather and Samantha Muse of Lincoln Park; Rylee Jones, Julia Petrowski, Addison Suave, Maggie Wilson and Rosemary Zehel of Wyandotte; and Brandon and Ryan Hale of Woodhaven.
Tickets are $12, with a $4 discount for seniors and military personnel, and a $5 discount for students, and are available at the door.
PLAYERS GUILD VOLUNTEER, LEADER HONORED BY HANNAN CENTER
Players Guild of Dearborn volunteer and leader Tom Sparrow of Allen Park was one of "70 over 70" seniors recognized by the Hannan Center Oct. 5 at the Dearborn Inn with a Next Chapter Award for seniors who demonstrate that "impact is ageless."
Sparrow, a teacher and educational administrator, has a long history onstage and behind the scenes working with community theater. At the Players Guild of Dearborn, his home-away-from-home, he has acted, assistant directed or produced more than two dozen stage plays.
He also has served on the non-profit's board of governors and as its president. Both he and his wife, Julie, work their magic behind the scenes in many capacities, with Tom working publicity, and Julie working in the box office. Sparrow's leadership and experiences contributes to the success of PGD, which is now in its 92nd season.