Local theaters offer a journey of the imagination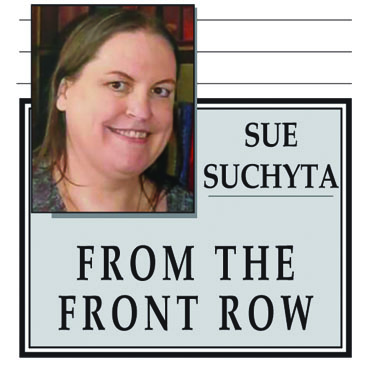 From an English manor in Pemberley to Crunchem Hall Primary School, to Badger Ordnance Works in Wisconsin to the Jitney cabs of Pittsburgh, get ready to travel to two continents as local theaters take audiences around the world with imagination and strong storylines.
In Trenton, the Open Book Theatre Company presents "Miss Bennet: Christmas at Pemberley," while the Downriver Youth Performing Arts Center presents "Matilda – the Musical."
Woodhaven High School brings Rosie the Riveters to life in the world premiere of "Badger," set in Wisconsin, while in Detroit, August Wilson's "Jitney," set in Pittsburgh, takes audiences on a wild ride at Music Hall.
OBTC PRESENTS 'MISS BENNET: CHRISTMAS AT PEMBERLEY'
Fans of "Downton Abbey" or novelist Jane Austen will enjoy the British holiday flavor of "Miss Bennet: Christmas at Pemberley" for a holiday visit to an English manor at the Open Book Theatre Company in Trenton.
The show runs 8 p.m. Nov. 15, 16, 22, 23, 29 and 30, and Dec. 6, 7, 12, 13 and 14; 2 p.m. Nov. 17 and 24, and Dec. 1 and 8; and 7 p.m. Nov. Nov. 24 and Dec. 1 and 8, at the theater, 1621 West Road, Trenton. The 2 p.m. matinees include a post-show talk-back with the artists.
Directed by Sarah Hawkins, the cast includes Annie Dilworth of Detroit as Mary, Claire Jolliffe of West Bloomfield as Elizabeth, Luciana Piazza of Troy as Jane, Danielle Wright of Lathrup Village as Lydia, Ashley Lyle of Lincoln Park as Anne, Jeremy Kucharek of Detroit as Darcy, Tim Pollack of Wyandotte as Bingley and Dan Johnson of Ann Arbor as Arthur.
Hawkins said the play draws upon the familiar characters from Jane Austen's 'Pride and Prejudice,' revisiting the characters two years after the book ends, at a holiday family gathering at Pemberley.
"It follows middle sister Mary Bennet as she meets and falls in love with bumbling Arthur de Bourgh, but, like any good romantic comedy, there are delightful obstacles to overcome before the pair can admit their affections," said director Sarah Hawkins.
Artistic director Krista Schafer Ewbank said OBTC audiences will recognize the smart, witty dialogue of playwright Lauren Gunderson, author of OBTC's productions of "Ada and the Engine," "Emilie" and "Bauer," who collaborated on the script with Margot Melcon.
Dilworth, as Bennet, said she grew up watching Jane Austen on the Arts and Entertainment channel.
"My mother and sister and I would always laugh at Mary, or say 'poor Mary' when she was teased or laughed at or bullied," she said. "Now I get the chance to redeem her awkward years and play a grown-up woman Mary, who still loves her pianoforte and books, but is finding how to be independent and individual, not just that middle Bennet sister."
Dan Johnson, who plays the unlikely love interest, Arthur de Bourgh, said his character is on a journey of self-discover as well.
"The thing I love most about playing Arthur is actually how, in many ways, he's on a similar journey as Mary," he said. "He's a young man, dealing with societal and familial expectations he doesn't want, and is ill-equipped to handle."
He said the surprise for Arthur, when he meets Mary, is that he not only finds a kindred spirit, but someone who challenges him in unexpected ways.
"Love, for Arthur, isn't something he's looking for, or maybe even something he believes is possible for him," he said. "It's something he discovers and ultimately chooses to fight for, which is a wonderful journey for an actor to take."
Hawkins said audiences don't need to be familiar with "Pride and Prejudice" to understand the plot, although Austen fans will enjoy references to one of her most beloved works.
"Audiences will find familiarity and joy in Austen's characters, as they search for love, experience the blessings and frustrations of family, and celebrate the holiday spirit over the course of this show," she said. "The show is family-friendly, and a perfect holiday treat for anyone looking to share in laughter and love."
Jeremy Kucharek, who plays Fitzwilliam Darcy, said that the best part of the Gunderson script is its glimpse into the hearts of some of Austen's characters.
"Every character has passions and a drive for love," he said. "It breathes life into those parts of the story."
Piazza, as Jane, said she hopes audiences enjoy the characters' search for genuine happiness and finding love.
"It's a feel-good comedy that is all tied up in a Christmas rom-com sparkly bow," she said. "What could be better?"
Tickets are $30 for opening night, which includes an afterglow. Other performances are $25, with a $5 discount for seniors, and a $10 discount for students. To order, call 734-288-7753 or go to openbooktc.com.
DYPAC PRESENTS 'MATILDA – THE MUSICAL'
From the imagination of Roald Dahl comes the musical based on his book, "Matilda," with adaptation by Dennis Kelly, and music and lyrics by Tim Minchin, which take us to Crunchem Hall Primary School in England, where intrepid Matilda Wormwood takes on the evil Miss Trunchbull to find her own happily-ever-after with Miss Honey.
The show winds up its run at 8 p.m. 15 and 16 at the Trenton Village Theater, 2447 W. Jefferson, Trenton.
Mary Zaleski directed the show, with choreography by Trevor Downey of Dance Grosse Ile.
The cast includes Isabela Selberg of Flat Rock as Matilda, Ryan Boos of Allen Park as Trunchbull, Ashley Marshall of Trenton as Miss Honey, Noah Rodriguez of Flat Rock as Nigel, Isaac Clark of Allen Park as Bruce and Samantha Plunkett of Riverview as Lavender.
Also in the cast are Noah Clark of Allen Park; Matthew Bond, Nina Nelson, Elaina Primeau and MacKenna Tocco of Brownstown Township; Nate Hermen of Dearborn; Edna and Enzo Bonomo, Alec Hernandez, Joslyn Kaiser and Molly McCallum of Flat Rock; Hailey Holbdy of Gibraltar; Luke Markley, Charles Redfield and Nolan Swamy of Grosse Ile Township; Grace Ray of Lincoln Park; Jake Krulikowski of Monroe; Alexis Gambino of New Boston; MaLeah Hayes of Oak Park; Amelia Hachenski, Caleb Litten and Tyler Zolynsky of Riverview; Reece Culverhouse and Reagan Lewis of South Rockwood; Caroline, Helen and Matthew Jakubiec of Taylor; Chance Day, Karli Fritz, Lauren Hill, Sara Huffmaster, Finn Jamison, Nina Lomas and Kyleigh Stangle of Trenton; Skye Baxter, Kyle Cronan, Violet Gates and Chloe McMahan of Woodhaven, and Sarah Cagle, and Parker and Sawyer Watson of Wyandotte.
Tickets are $10 and $15, and are available at showtix4u.com.
WOODHAVEN HIGH SCHOOL HOSTS THE WORLD PREMIERE OF 'BADGER'
During World War II, when women in the United States were taking on new roles on the home front, Rosie the Riveters entered the workforce to help support the "arsenal of democracy," the focus of playwright Don Zolidis' "Badger," which makes its world premiere Nov. 14 at Woodhaven High School.
The show runs 7 p.m. Nov. 14, 15 and 16 at the Woodhaven High School Auditorium, 24787 Van Horn, Brownstown Township.
Set in 1944 at the Badger Ordnance Works in Wisconsin, five young women take on dangerous work with highly flammable powder while facing equally insidious sexism, as they form a bond of friendship which supports them through heartache and joy.
The show also features a strong ensemble, which brings the story of the Rosie the Riveters to life. The students met with women who worked in the plants during World War II as part of their research and preparation to play the roles.
The closing night show will feature a post-show talk-back with real Rosie the Riveters.
Directed by Michael Clemons, the cast includes Peyton Forgach as Eleanor, Athana Cupino as Rose, Taylor Jones as Barbara, Jacinta Zinampan as Irene and Olivia Williams as Grace.
The ensemble includes Alana Ganop, Madison Nelson, Rebecca Colon, Jaime Maczuga, Rian Orcher, Jaelynn McDonald, Malina Rowe, Taylor Werling, Elizabeth Solomon, Alicia Somer and Emily Briggs.
Also, in the cast, are Leo Hellar as Burt, Eric McSweeney as Timothy, Nathan Kriebel as Chester, Connor Moran as Matthew, Andrew Reeder as John and Christian Adkins as Bob.
Also, Mason Glenn as Joe, Marissa Fluharty as Gladys, Madison Hittinger as Mary, Aiden Myers as Ben, Marcus Castillo as Mr. Prentiss and Marlowe Clemons as Julie.
Tickets are $8, with a $2 discount for seniors and a $4 discount for students and children, and are available at the box office one hour prior to each performance.
MUSIC HALL BRINGS AUGUST WILSON'S 'JITNEY' TO DETROIT
Unlicensed cab drivers, known as jitneys, eke out a living in 1970s Pittsburgh in a tenuous, volatile web of relationships in August Wilson's Tony Award-winning "Jitney."
"Jitney" runs 8 p.m. Nov. 12 to 16, 1 p.m. Nov. 14 and 2 p.m. Nov. 16 at the Music Hall, 350 Madison in Detroit.
When city officials threaten to shut them down, and the boss' son returns after serving time, the stage is set for confrontation, revelations and the severing of ties as their world forever changes.
Tickets start at $39, and are available by phone at 800-982-2787, at broadwayindetroit.com and at ticketmaster.com.