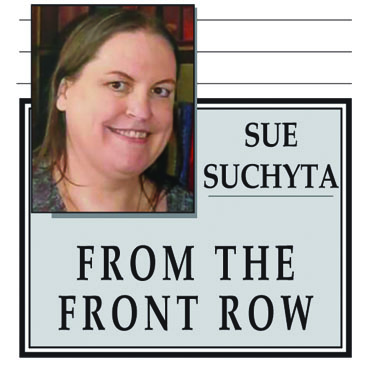 You don't have to be a Jane Austen fan to enjoy the Open Book Theatre Company's production of "Miss Bennet: Christmas at Pemberly" – romantics who enjoy Hallmark movies with a blend of "Downton Abbey" will definitely leave with a smile on their face.
Which is not to say it is a stage version of a "chick flick," so fellows, don't shy from taking your leading lady to the Open Book Theatre Company through Dec. 14: The acting is superb, the pacing quick and the story clever and entertaining.
The show continues its run 8 p.m. Nov. 30, and Dec. 6, 7, 12, 13 and 14; 2 p.m. Dec. 1 and 8; and 7 p.m. Dec. 1 and 8, at the theater, 1621 West Road, Trenton. The 2 p.m. matinees include a post-show talk-back with the artists.
Director Sarah Hawkins said the play draws upon the familiar characters from Jane Austen's "Pride and Prejudice," revisiting the characters two years after the book ends, at a holiday family gathering at Pemberley.
Hawkins brings her strong cast together to deliver a delightful story.
Leading the cast are Annie Dilworth of Detroit as Mary Bennet and Dan Johnson of Ann Arbor as Arthur de Bourgh, who play two likable eccentrics who discover their soulmates in each other. Both deliver endearing, awkward characters for whom one can't help but hope the best as the story unfolds.
Claire Jolliffe of West Bloomfield as Elizabeth Darcy and Jeremy Kucharek of Detroit as Fitzwilliam Darcy ("Mr. Darcy" to devotees) embody the happy hosts and newlyweds who want others to be as happy as them. Their characters sprinkle sage advice with humor and a light touch.
Luciana Piazza of Troy as Jane Bingley and Tim Pollack of Wyandotte as Charles Bingley also embody the essence of a happy couple, ecstatically expecting, who successfully join forces with Mr. and Mrs. Darcy, conspiring to steer the plotline toward it much-wished-for happy ending.
Danielle Wright of Lathrup Village, as Lydia Wickham, successfully develops the complex character of the unhappily married Bennet sister, who masks her character's discontent with careless flirting and self-centered, thoughtless remarks, but who redeems herself before the story's last lines by revealing a caring side of her character.
Likewise, Ashley Lyle of Lincoln Park successfully develops her character, Anne de Bourgh, from overblown bully to a woman worthy of not pity, but friendship, by story's end.
Cheryl Zemke created colorful, flattering gowns for the women, and makes the men all the more dashing with their upper-class tailoring.
The set, created by Stephanie Baugher, is both elegant and homey, and picks up simple yet classic Christmas decorative touches in each successive scene. Harley Miah's lighting design successfully highlights it further.
Tickets are $25, with a $5 discount for seniors, and a $10 discount for students. To order, call 734-288-7753 or go to openbooktc.com.
THEATRE COMPANY AT DETROIT MERCY PRESENTS 'EBENEZER,' CELEBRATES THE CAREER OF ARTHUR BEER
Recently retired professor of theater Arthur Beer shines in the title role in "Ebenezer" with the Theatre Company at Detroit Mercy.
Performances run 7:30 p.m. Dec. 5, 6 and 7, and 3:30 p.m. Dec. 8 at the Marlene Boll Theatre, 1401 Broadway, Detroit.
Opening night on Dec. 5 features $15 tickets for faculty, staff and alumni, with $5 student tickets, with identification, while the Dec. 6 show features a post-performance talk-back with playwright Joseph Zettelmaier, who will share his insights and inspirations. The Dec. 7 show is community night, with $15 tickets for all attendees.
Following the closing Dec. 8 performance is a celebration of the career of Arthur Beer, with a 5:30 p.m. reception, 6:30 p.m. announcements, and a 6:45 p.m. roast.
Surprise letters of tribute to Beer, as well as video clips, are sought, and may be discretely sent to [email protected]
For more information about performances, and to attend the celebration of Beer's career, go to udmercy.edu/life/theatre/ebenezer.php.
WSU USHERS IN THE HOLIDAYS WITH PLAYS, HOLIDAY DANCE CONCERTS
Wayne State University welcomes the holidays with a variety of winter cheer, from the traditional "A Christmas Carol" on the Bonstelle stage Dec. 4 to 15, to "Reckless," a dysfunctional, dark comedy, running through Dec. 8, in the Underground Studio Theatre at the Hilberry. Also taking center stage are the December Dance Concerts, with performances Dec. 7 at the Allesee Theatre as part of Noel Night, and Dec. 7 and 8 at Music Hall.
For tickets, showtimes and more information, call 313-577-2972 or go to theatreanddanceatwayne.edu.
HFC ANNOUNCES 'MAMA MIA' AUDITIONS
Henry Ford College will hold open auditions for the musical "Mama Mia!" from 7 to 10 p.m. Dec. 10 and 12 at Adray Auditorium in the MacKenzie Fine Arts Center on the main campus, 5101 Evergreen Road, Dearborn. The musical will run April 23 to May 3 at HFC. For more information, contact Chris Bremer at [email protected]