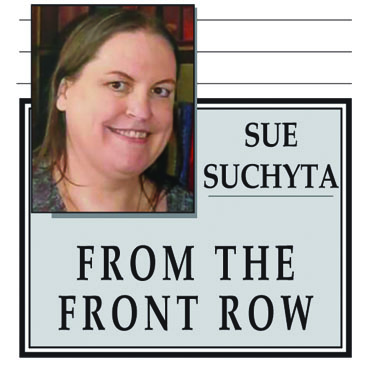 Theaters deck the halls with 'A Christmas Carol,' 'A Very Golden Girls Christmas'
Whether you treasure the traditional holiday tale of "A Christmas Carol," or you prefer the irreverent parody of "A Very Golden Girls Christmas," local stages are ready to set the stage for holiday happiness.
BONSTELLE PRESENTS 'A CHRISTMAS CAROL'
Don't miss a chance to see "A Christmas Carol" on the Bonstelle stage before Wayne State University's launches its new Gateway Performing Arts Center by Old Main and begins its restoration of the historic Bonstelle Theatre.
The show runs 7 p.m. Dec. 6, 7, 13 and 14; 2 p.m. Dec. 7 and 14; and 3 p.m. Dec. 8 and 15 at the Bonstelle Theatre, 3424 Woodward Ave., Detroit.
In Charles Dickens' classic tale of redemption and second chances, three ghosts – representing the past, present and future – visit Ebenezer Scrooge, urging him to change his ways and seek redemption, before his destiny is beyond repair.
The cast includes Lani Call as the Lamplighter-Narrator, John Bergeron as Scrooge, Quint Mediate as Fred, Emily Braun as Mrs. Fred, Ace Thuma as the Laundress and Jacob Lipski as Bob Cratchit.
Also, Camden Maccagnone as Mr. Fezziwig, Miranda Cole as Mrs. Cratchit, Emma Orr as the Ghost of Christmas Past, Layton Gonzalez as Tiny Tim, Tyler Black as Marley's Ghost and Old Joe, and Quinn Hysni as Apprentice Scrooge.
Gillian Marshall plays Belle, with Allie Farmer as the Charwoman, Jeremiah Boglin as the Ghost of Christmas Present, Amanda S. Kennedy as Lady 1 and Reveler 1, Anna Marie Bethune as the Fruit Seller, Brittney Holliday as Mrs. Fezziwig, and Gabe Brinkley as Toy Seller, Man 1 and Topper.
Isabel Luther plays the Fan, with Jacob Wilson as the Gravedigger, Joshua Poppink as Dick, Kylie Ann Stone as Martha, Mary Zoran as Belinda, Melissa Figliuolo as Caroline, and Michael Danaj as Peter Cratchit.
Naci Carter plays Charity 1; with Nicholas Guevara as Caroline's husband; Paige Heath as the Flower Seller; Reilly Kerrigan as Charity 2; Samantha Stafford as Lady 2 and Partier 2; Abby Bolas as the Street Kid, Street Urchin and William; Adriana Farrugia as the Matchstick Girl, Zachariah, Street Urchin and Want; Olivia McClelland as Benjamin, Street Urchin and Ignorance; and Parker Watson and Young Scrooge, Street Urchin and Turkey Boy.
Tickets are $29, with a $5 discount for WSU alumni, faculty and staff, and a $12 discount for student and children. A $2 convenience fee may be added to online orders.
FOR HILARIOUS HOLIDAY FUN, SEEK THE STARS AT 'A VERY GOLDEN GIRL CHRISTMAS,
You won't have to seek just one star for a Christmas epiphany this holiday season, when you can follow many more stars onstage in the Ringwald's unauthorized parody "A Very Golden Girls Christmas."
The show runs 8 p.m. Dec. 6, 7, 9, 13, 14, 16, 20 and 21, and 5 p.m. Dec. 8 and 15 at the Ringwald Theatre, 22742 Woodward Ave., Ferndale.
The show, written by Dyan Bailey and Christopher Kamm, and directed by Bailey, is set in Miami at Christmastime. One of the Golden Girls is getting married, and the other three must throw a shower, bachelorette party and wedding on the same weekend as Christmas.
The cast includes Brandy Joe Plambeck as Rose, Richard Payton as Blanche, Christopher Kamm as Sophia, Andy Fillmore as Dorothy, Lauren Bickers as Aunt Angela, Suzan M. Jacokes as Uncle Angelo, Tess Hannah as Carol Weston and Dyan Bailey as Stanley Zbornak.
The Dec. 8 performance will include a Golden Girls impression contest during intermission, with prizes for the best audience-judged doppelgangers.
The Dec. 15 performance includes a cheesecake social with the cast after the show.
Tickets are $20 Friday, Saturday and Sunday, with $10 tickets on Monday nights. For tickets and more information, call 248-545-5545, or go to TheRingwald.com, or brownpapertickets.com.