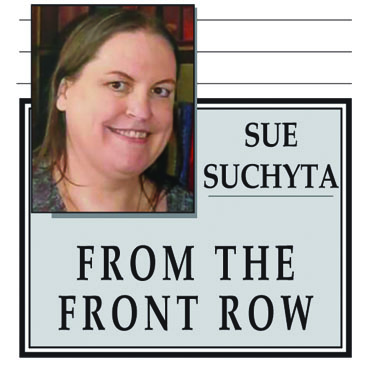 Two upcoming shows are sure to please, from the heart-warming Broadway revival tour of "Fiddler on the Roof," March 10 to 15 at the Fisher Theater in Detroit, to a family friendly improv comedy March 13 at Trenton's Open Book Theatre Company.
'FIDDLER ON THE ROOF' CONTINUES DETROIT 'TRADITION!'
Before there were modern blockbusters like "Phantom," "Chicago," "Lion King" and "Hamilton," there was "Fiddler on the Roof," still one of Broadway's top 20 musicals, a heartwarming story of Jewish families facing a world of change in 1905 czarist Russia. It was the first musical in history to surpass 3,000 performances.
The current Broadway revival tour is in Detroit for a mere eight performances, at 8 p.m. March 10 to 14, 2 p.m. March 14 and 15, and 7:30 p.m. March 15 at the Fisher Theater, 3011 W. Grand Boulevard.
From the opening notes of "Tradition" to the tearful "Anatevka," the songs evoke emotions, smiles and tug at the heartstrings. Favorite songs, which its fans know well, include "Matchmaker," "If I Were A Rich Man," "Miracle of Miracles," "Sunrise, Sunset," and "To Life (L'Chaim!)."
"Fiddler on the Roof" had its world premiere in Detroit, at the Fisher Theater, in 1963, with Zero Mostel as Tevye, before the Tony Award-winning show moved to Broadway. In 1965 it won nine Tony Awards, including Best Musical.
Tickets start at $45, and are available at the Fisher Theater box office, and by calling 800-982-2787, at broadwayindetroit.com and at ticketmaster.com.
DOWNRIVER RENEGADES TEMPT FATE WITH FRIDAY THE 13TH IMPROV SHOW
Family friendly improvisation, fun and games will defy superstition on Friday the 13th as the Open Book Theatre Company hosts the Downriver Renegades.
The event, "Off Book at Open Book," begins at 8 p.m. March 13 at the theater, 1621 West Road in Trenton.
"This is a great opportunity to see professional improvisational comedians right in our own backyard," artistic director Krista Schafer Ewbank said. "They take audience suggestions, so everything is original. Fans of 'Whose Line is it Anyway' will love seeing what happens live. Audiences always have a great time at this event."
Performing are Michael Lomas of Trenton, Kara Markusen of Brownstown Township, Brandon Monaghan of Newport, Sean Paraventi of Redford Township and Jeremy St. Martin of Wyandotte.
Admission is $20, with a $5 discount for students and seniors. For tickets or more information, call 734-288-7753 or go to openbooktc.com.
DATA SEEKS NOMINATIONS FOR 2020 DEARBORN THEATRE HALL OF FAME
The Dearborn Area Theatre Association is accepting nominations through April 1 for the 2020 Dearborn Theatre Hall of Fame Award.
This year's ceremony will be held at 7:30 p.m. May 19 in the Michael A. Guido Theater in the Ford Community & Performing Arts Center, 15801 Michigan Ave., Dearborn. Admission is free.
The honor, begun in 1990 by local theater writer Richard Marsh, has been presented by DATA since Marsh's 2002 posthumous induction. It is awarded at the annual DATA Awards night, formerly known as the PAGE Awards, and recognizes achievement in the Dearborn area theater community.
The Theatre Hall of Fame recognizes the lifetime contributions of local thespians involved on stage and behind-the-scenes.
One nomination may be submitted per person or organization, and all letters of nomination must be signed, postmarked by April 1 and sent to: DATA Hall of Fame Committee, 22772 Beech St., Dearborn, MI 48124.