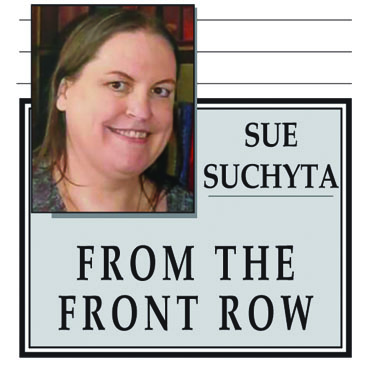 While houses remain dark as theater companies ride out the coronavirus storm in unaccustomed isolation, the creativity of thespians has risen to the challenge, offering virtual content, lessons and other entertainment online.
However, after the last line is uttered, one is reminded that it is the collective experience of the actors, technicians and guests that imbue theater with its unique magic, from the moment the house goes dark, through the laughter and sighs, to the applause during the final bows.
WSU OFFERS ONLINE PERFORMANCES, TUTORIALS AND MORE
Michael J. Barnes, a faculty member with the Department of Theatre and Dance at Wayne State University, said members of the WSU theater community have been posting daily performances online to stay close to its audiences and supporters during this time of social distancing.
He offers Shakespeare's Sonnet 121, "'Tis Better to be vile than vile esteemed," which touches on the unfairness of the world's judgement, and expresses the cynical thought that committing a sin is not the crime as much as being caught committing it is.
"I enjoy the sonnets, I make my students learn them, and they are kind of fun and short," Barnes said. "It's a nice, simple way to expose people to Shakespeare."
To hear Barnes' rendition of Sonnet 121, as well as other WSU content, go to facebook.com/pg/TheatreandDanceatWayne/videos.
Other interesting WSU entries include a Tiger Face makeup tutorial with undergraduate student Sean Stanisz, and graduate student M. Smith-Fraser's fascinating delivery of a poem which focuses on a person's struggle with the onslaught of a sudden and serious illness.
Don't miss the gravity-defying and smooth movement of the BAIRA, the resident dance company, rehearsing Hotel Jericho, shot before the quarantine was enacted, or senior Perry Quarker Jr.'s inspirational encouragement to exercise creativity and embrace your imagination by creating and performing a character for one's own enjoyment.
Senior theater student Dewight Braxton, Jr., performs "Quarantine Blues," while graduate acting students Lani Call and Jacob Chapman perform, "That Old Black Magic," which they were to have performed as Cherie and Virgil in "Bus Stop" at the Hilberry before the quarantine was imposed.
SHAKESPEARE IN DETROIT OFFERS INEBRIATED READINGS
While exploring a new way to generate audiences, Shakespeare in Detroit has combined the arts scene with happy hour, which results in what the group light-heartedly refers to as its "inebriated readings."
Recently, it performed an abbreviated reading of Shakespeare's comedy, "The Taming of the Shrew," which is available online at blogtalkradio.com/shakespeareindetroit.
At Shakespeare in Detroit's Facebook page, there is a timely posting about how Shakespeare wrote the sonnets when he left London for the countryside from 1593 to 1594 during a plague.
For more information on Shakespeare in Detroit, go to shakespeareindetroit.com.
TRENTON'S OPEN BOOK THEATRE COMPANY OFFERS PHOTO RETROSPECTIVE
On the Trenton Open Book Theatre Company's Facebook page, there is a fascinating collection of past show photos and notes from artistic director Krista Schafer Ewbank.
As thespians peruse the content, filled with nostalgic memories for past patrons, and providing interesting content for newcomers, Ewbank makes an important point about online theater offerings, and reminds theater fans that while it is a welcome diversion, it will never replace the live theater experience which so many of us miss and crave.
"While I have certainly enjoyed some theater things online, I find I don't have a lot of energy or interest to watch or create a theatrical online experience, because that is not what theater is," she said. "I've spent six years working to build a theater that is all about group assembly and live performance, and learning how to do something new that will only be discarded once we can go back to the thing we do well and have passion for, I have no energy for that."