By SUE SUCHYTA
Sunday Times Newspapers
LINCOLN PARK – The former Sears parking lot at Dix and Southfield was uncharacteristically crowded with vehicles June 4, as the area served as the starting point for a Black Lives Matter march.
Participants of the well-attended, peaceful protest walked north on Southfield Road to Allen Park City Hall, then turned into the southbound lanes of Southfield Road to walk to Lincoln Park City Hall, near Southfield Road and Fort Street.
Police officers shut down alternating sides of Southfield Road to protect the marchers, who began their journey at 4 p.m. from the site of the former shopping center.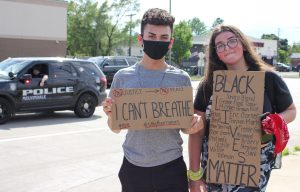 The group of walkers, predominantly young, were a racially diverse group. Sunshine prevailed along the route, with temperatures in the mid-80s.
Sam Snow, who is white, said she was at the march to support people of color.
"I am here to support and help black people any way I can – today, tomorrow, and the next day," she said.
James, who is white, and declined to give his last name, said he attended the march to support marginalized people.
"In the last week and a half, it has really just come down to you can no longer be complicit, and let the system be the system," James said. "You have to do what you can do as an individual to disrupt that. So, it has really been about not letting people stay silent and not letting people ignore what's going on."
Kalynne Konarski said she grew up in Melvindale, which she characterized as a very inclusive community.
"Everything else just doesn't make sense to me," she said.
Valentino Balderas, also of Melvindale, agreed.
"It is like we were in our own little bubble in our school, because it was so open and so diverse, no matter what you were," he said. "So, we're coming here to support. We just want to do our part."
Eric and Michelle Dodson of Wyandotte brought their three children to the protest march to set a positive example for them.
Michele Dodson, who carried a sign which read, "White parents, let's teach our children that black lives matter," said her sign "says it all."
Isabelle Dodson, 8, said her parents taught her that it is important to be nice to all people, no matter what their background.
Her teenage brother, Ellis, said it is important to ensure that law enforcement officials are free from racism.
Protesters Kian Abbott, 17, and his sister Asia, 13, of Melvindale, who attended the march, are black, and were raised by adoptive white parents.
Kian Abbott said he has been troubled by the actions of white Minneapolis police officer Derek Chauvin, who has been arraigned in the death of George Floyd, who was black.
"I remember what that police officer did to that innocent guy, and that's messed up," he said. "(Floyd) wasn't doing anything wrong."
Asia Abbott said their skin color makes them vulnerable.
"They use our skin color to divide us," she said.