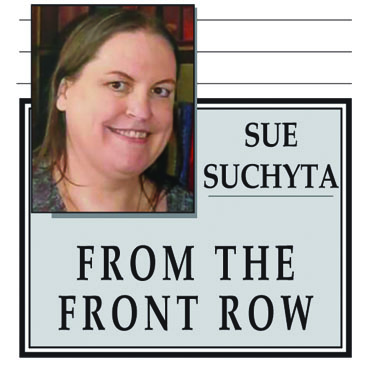 From slapstick comedy to drama dealing with loss, YardTheatre Detroit's premiere of three new one-act plays at an outdoor venue offers playgoers a respite from the pandemic's theatrical drought.
The outdoor performance, at 8 p.m. Aug. 1, at 640 Horton St., in Detroit, is free. Attendees are asked to wear a mask and practice social distancing.
The three one-acts, by playwright Roman D'Ambrosio, 22, of South Lyon, include "Air Tokyo," "Reunion" and "Rapunzel and Sisyphus."
Directed by Michael Lapp, 35, of Detroit, the performance features the talent of actors Mike Suchyta, 24, of Dearborn and Maggie Alger, 26, of Detroit.
D'Ambrosio said "Air Tokyo" follows an American painter's 1984 visit to Japan, while "Reunion" focuses on a grieving husband and the woman who helps him process his grief. He said "Rapunzel and Sisyphus" combines two myths into a single romantic comedy.
"'Air Tokyo' is based upon the Zach Thompson painting of the same name, while 'Reunion' is based on the short story 'Your Second Wife' by Laura van den Berg, but my play differs in that it has a happy ending," he said. "'Rapunzel and Sisyphus' are two stories that were always in my head, until I realized that both their curses solved each other's problems."
D'Ambrosio, who trained at the Circle in the Square Theater in New York City, said he has a passion for both theater and writing.
"People go to the theater for enjoyment, and for something to think about afterward," he said. "That's how you know it's a worthwhile work."
D'Ambrosio said he asked Lapp to direct his debut work because of his ability to handle a team and to bring creativity to a project.
Lapp said that with cultural arts in a tough spot due to the pandemic, artists still want to find a way to perform given the new norms.
"In a time when group gatherings are difficult and everyone wants to err on the side of caution, we still find a way to mitigate risks, and humble ourselves by performing in backyards and non-traditional venues," he said. "We find ourselves still with the most important part of it all – the art form."
Lapp, who now works mainly as a production designer and art director, acted professionally while in his twenties. He is making his directorial debut with D'Ambrosio's work.
"I want the audience to enjoy themselves outside and enjoy an unconventional production, where like-minded people come together to make the impossible work," he said. "They should feel inspired and fulfilled, as they would when they leave a theater, having had the chance to escape the regularity of their lives."
Lapp's long-term goal is to open his own music venue locally, with studio space, a 24-hour café, an internet radio station and a small black box theater to host improv and independent theater productions.
While D'Ambrosio had performed with Suchyta and Alger in the past, Lapp had not, but after spending three hours with them during the initial read-through, he felt confident he would be able to get what he needed from them as a director.
"We played, improvised and got to know each other," he said. "They both dove into the work nicely, and were happy to be doing so."
D'Ambrosio said he cast Suchyta and Alger in his premier work based on their past work together.
"In every project, Mike and Maggie are professional, honest and extremely respectful of the text," he said. "They are actors who are so vulnerable on stage it makes you cry, and I am in awe whenever I witness it."
Suchyta said the past few months have been hard on performers.
"When Roman asked us to perform in three original works by him, we jumped at the opportunity to play in front of a live audience again," he said. "The majority of entertainment offered over the last four months has been limited to streaming online, and we wanted audiences to remember the intimate joy that comes with live theater."
Suchyta said he hopes the audience enjoys a fresh perspective from a new playwright.
"Roman may be young, but he has surrounded himself with experienced professionals in the industry, who have critiqued his work without sugar-coating anything," he said. "He has a fascination with his craft, and never gets tired of learning."
Alger said D'Ambrosio has created three unique sets of dynamic characters for the pair to play in the one-acts.
The two, who are a couple, can rehearse together without worrying about social distancing, which is an advantage and a challenge.
"The advantages of working with your significant other are numerous, and rehearsing is easy to arrange," Alger said. "However, it is easy to get distracted while trying to rehearse on our own after we've both had a full day of work."
D'Ambrosio said casting couples and performing outdoors are ways theaters can adapt to incorporate the precautions needed to ride out the coronavirus.
"The pandemic has taken away so much from us, but it cannot take away our hope," he said. "Theater is all about being with strangers in a dark room, breathing the same air as them while watching a story, and until we can do that, I think being under the stars is a pretty good substitute. Detroit theater will come back – it has to – and when it does, the warriors who create will be hungry and ready."