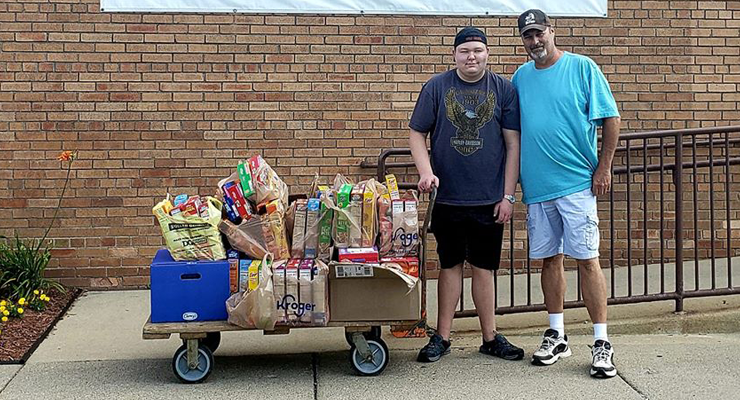 By SUE SUCHYTA
Sunday Times Newspapers
LINCOLN PARK – Dillon Marshall Alley continues his tradition of collecting food for local pantries with a summer drive for breakfast cereal, which is in high demand when schools are not in session.
His mother, Sheri Alley, helped him launch his tradition of food drives four years ago as a way to help him work through the challenges of his autism, while helping others in need.
This summer's cereal drive fulfills a two-fold need: It helps replenish much needed breakfast foods for area charitable pantries, to help low-income families whose children would receive breakfast at school during a normal school year, and it helps non-profits provide shelf-stable foods to people facing an additional economic strain brought on by the COVID-19 pandemic.
Sheri Alley, said the goal of this summer's drive is to donate 100 boxes of cereal to 10 different food pantries. He has reached half of his goal so far.
Deliveries have been made to Blessed Hope Food Pantry in Lincoln Park, First Congregational Church of Wyandotte United Church of Christ food pantry, Faith Christian Assembly of Melvindale, the Gibraltar Food Pantry, and I Am Church East Campus in Rockwood.
"We knew the drive wouldn't be as big as last year's 5,000 boxes donated, but Dillon still wanted to make sure no child went without breakfast this year," Sheri Alley said.
She added that some pantries are still closed due to pandemic precautions.
Monetary donations, made through Paypal, using email [email protected], can enable the purchase of cereal, while actual food donations can be dropped off at Cassandra J Nail Salon, 3152 Biddle Avenue, in Wyandotte.