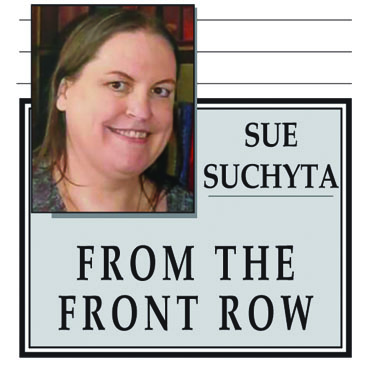 Shakespeare in Detroit, which supports the arts as a key component of the curriculum in its partner schools, donated 75 STEAM packets Sept. 16 to The James and Grace Lee Boggs School in Detroit.
STEAM refers to science, technology, engineering, art and math activities, which support and enhance student learning in all areas of the curriculum.
SID emphasizes that there is more to theatrical arts than the actors on stage, as it trains a new generation of lighting designers, sound engineers, set builders and stage carpenters, all of which employ STEAM skills.
Theater activities also help students develop socially and emotionally, the group contends, as it encourages artist expression and cooperation.
Recently, two student actors from the Detroit School for the Arts expressed themselves artistically, reprising their lead roles in Shakespeare's "Romeo and Juliet" Sept. 13, performing the balcony scene during a private event held at the Whitney Restaurant in Detroit.
Karrief Hubbard, 16, played Romeo, with Arise Rock, 15, performing the role of Juliet.
The play, which is part of their high school curriculum, reportedly impressed their socially-distanced audience.
While the balcony scene does not include Mercutio's famous dying curse, "A plague on both your houses," the frustration of separated teens in love is all too familiar during a modern pandemic.
To learn more about Shakespeare in Detroit, or to donate to their STEAM program, go to shakespeareindetroit.com.
JET PRESENTS VIRTUAL PERFORMANCE OF 'GOD OF VENGENACE'
The Jewish Ensemble Theater will present a Zoom virtual performance of Sholem Asch's three act play, "God of Vengeance" with one act per performance on three upcoming dates.
All sessions will be at 7:30 p.m., with Act I on Sept. 30, Act II on Oct. 7 and Act III on Oct. 14.
Written in 1910, by a Polish-Jewish playwright, "God of Vengeance" is the story of a Jewish brothel owner and his wife, who is a former prostitute, and their protected daughter, who live above the brothel. The father is obsessed with his daughter's purity and future. She, however, is infatuated with one of the prostitutes, which sets the stage for the tragedy that unfolds.
When the show opened on Broadway in 1923, it created much controversy, and the theater owner was convicted on obscenity charges. At the time, many in the Jewish community felt the play slandered their religion, and would lead to more anti-Semitism.
The play has been both admired and banned. It explored themes of guilt and retribution, and dared to depict lesbian love at a time when the topic was considered scandalous.
Tickets are $10 per session, and are free to JET subscribers. For more information, call 248-788-2900 or go jettheatre.org.
DATC PRESENTS 'THE ROCKY HORROR PICTURE SHOW' WITH SHADOW CAST
The Detroit Actor's Theatre Company will present "The Rocky Horror Picture Show" movie with a live shadow cast at 8 p.m. Oct. 8 to 10 at Beacon Park, 1903 Grand River Ave., in Detroit.
The performance will be CDC-compliant and socially distanced. Attendance is free, but reservations are required. Go to bit.ly/RHPSDetroit to reserve a spot.
For more information about the theater company, go to thedatc.com.