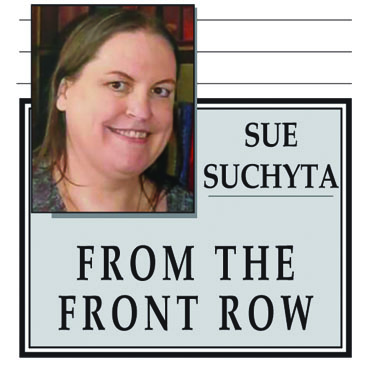 For an out-of-this world experience, connect beyond the bounds of earth with the Trenton-based Open Book Theatre Company's virtual one-to-one presentation of playwright Joe Zarrow's "Love Space."
The 10-minute original work, commissioned for OBTC, takes place in outer space, where Captain Talosi, played by Jeremy Kucharek, is under attack by aliens, and reaches out to an earthly contact to make a vital human connection.
Artistic director Krista Schafer Ewbank said that while Trekkies and sci-fi fans will appreciate some of the cultural references, the story goes beyond being merely an outer space flight of fancy.
Playwright Zarrow said the isolation one can face when cut off from human connections on an inter-stellar voyage is much like the struggles brought on by the pandemic.
"It's about finding love and connection despite barriers of space and time," he said. "I also tried to play with as many extremely low-budget special effects as possible."
Kucharek, a true Trekkie, said there is something peaceful and hypnotic about the thought of traveling through outer space.
"In a time when it's dangerous to simply leave our homes, it's easy to feel cut off from the outside world," he said. "I would like to think that 'Love Space' might break the monotony of binge-streaming and add some desperately needed local creativity to our lives."
Kucharek said the chance to travel into the unknown with "Love Space" has a similar appeal.
"I get to climb aboard a starship of my own and forget the terrifying reality of America 2021," he said. "It has been such a treat to escape the closing in of my own four walls and launch into the control room of the Starship Hieronymus."
Director K. Edmonds said the show provides a welcome escape from the drudgery of the pandemic.
"It provides a real connection with another living, breathing human, although through a machine," she said. "There is an opportunity for us to just breath and be together virtually."
Edmonds said that, although we feel individually isolated, and in new and unchartered territory, mankind is in this together.
"I am a self-proclaimed Trekkie, so I immediately connected to the circumstances the character is facing," she said. "But then the playwright takes it to a place that is even deeper, a place I believe many of us have been to before."
Edmonds said it is exciting to be able to work in the realm of theater despite the pandemic.
"When the pandemic hit last March, I thought, 'This is the end of theater,'" she said. "Shame on me and my pessimistic view. Theaters like Open Book have remained dedicated to bringing this essential work to humanity when it is most needed, giving me and others hope that we are not only surviving the pandemic, but thriving in it."
The show runs Feb. 4 to 22, on Monday and Thursday evenings. Tickets are $20, and provide a 10-minute exclusive performance during the time slot via a Zoom link. Patrons are greeted by a house manager prior to the performance to ensure a smooth interface.
For more information, go to openbooktc.com.