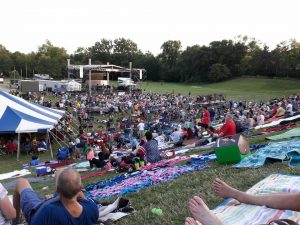 Outdoor concert series to offer alternative
By SUE SUCHYTA
Times-Herald Newspapers
DEARBORN – Homecoming, the city's much anticipated, annually enjoyed weekend celebration, held the first weekend of August at Ford Field Park, has fallen victim to the pandemic for a second year.
Chief-of-Staff Mark Guido said a study committee recommended that it could not be safely held this year, given the logistical challenges of providing a sanitized, healthy environment, and said city officials hope to instead offer 10 outdoor concerts during the summer, with five at Ford Field, and five at Ford Woods, running from June through August.
Martin Zbosnik, theater director for the Ford Community & Performing Arts Center, said it can't be determined what the environment will be like in August with respect to COVID-19, and while there is optimism, if they did hold a festival, obtaining sponsors would be a major concern.
"Beaumont and Ford have indicated, at this point, this year, (they) will not support large events," he said. "And we are also questionable what kind of success we would have with a festival because of conditions, and it's very costly to put on and difficult to shut down, so that is where we are looking at this point."
Zbosnik said they want to serve the community, and with people comfortable with being outside for events, outdoor concerts would provide summertime entertainment experiences.
City Council President Susan Dabaja said that while it was heartbreaking to have Homecoming canceled last year, as well as the Memorial Day Parade, she recognizes how much planning, time and effort goes into an event like Homecoming.
"As much as I would love to see this occur, I guess we don't know what to expect around that time, whether things have returned to somewhat of a normal environment," she said. "I understand the need to make the decision to not hold it, and instead, do something else."
Councilwoman Leslie Herrick said she knows how critical sponsorships are to the success of events like Homecoming, and if sponsors are unable to provide the level of sponsorship they have in the past, or are concerned about the event's safety, she realizes that it would be a financial burden for the city to assume those costs.
"With two nights of fireworks, at more than $25,000 a night, and headline acts that are more than $30,000, I appreciate that you included feedback from the other non-profit organizations that partner to help put on Homecoming, and do fundraising there," she said. "It looks like they are in support of doing an alternative along these lines."
Herrick said she appreciates the effort that has gone into finding alternatives.
"I think we all miss those important community events that make Dearborn what it is," she said.
Guido said they would have more time this year to help the city's non-profit organizations by providing other venues for fundraising opportunities, which were lost with the cancelation of Homecoming.
"We are reaching out to them and hopefully, they will be a part of these concerts and have the opportunity to raise the money that they need to do the good work that they do," he said.