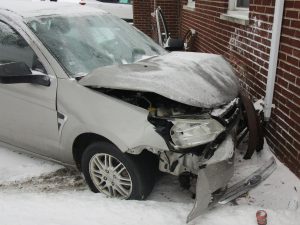 By SUE SUCHYTA
Sunday Times Newspapers
WYANDOTTE — An impaired 36-year-old Wyandotte man drove his vehicle into a house the afternoon of Feb. 13 in the 1000 block of Goddard Road, the third driver to hit a house recently in the city.
The vehicle, which had been traveling west on Goddard, sustained heavy front-end damage after the driver left the road and crashing into the residence.
The man was taken to a local hospital for bloodwork to determine his blood-alcohol content. Charges may be filed pending the results of the lab report.