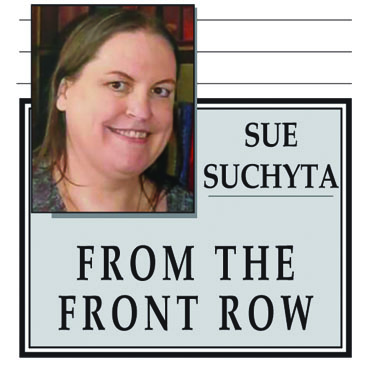 Whether she was in the spotlight or behind the scenes, Diana Reynolds, who passed away Feb. 12 at age 79, was a beloved member of the Players Guild of Dearborn for more than 50 years, with four generations of her family active members.
Guild President John Sczomak said Reynolds shared her talents both on stage and off, and was a costumer for many productions.
"We will all remember Diana's loving nature, her willingness to help wherever needed, her ready laugh and her love for the Guild and its members," he said.
Diane Cliff, who performed with her in "A Little Night Music" in 2013, said Reynolds was always warm, welcoming and encouraging.
"Every time we met, she would always kiss me on the cheek, and tell me how happy she was to see me," she said. "I loved working with her in 'A Little Night Music,' and it was fun adding more and more 'bling' to the little cushion she sat on in the opening of the second act.
"Every time I thought there was enough, she requested more. I think the audience saw it for 30 seconds, but it was perfect."
April Denny, who was in the Guild's 2010 production of "Fiddler on the Roof" with Reynolds, said she was an amazing soul.
"She was a force to be reckoned with, and I hope to be half as cool when I am older," she said.
Denny said sometimes the best part of being on stage is when the unexpected happens, as it did in a scene with Reynolds.
"We were running 'Fiddler' for a month, and during the run, we got comfortable, and there is a song called 'The Rumor,' and Diana had the opening line, and then handed it off to me," she said. "During a performance, she started singing the wrong lyrics. I could see the realization in her eyes, and the shock."
Denny said her next line was linked to Reynolds' and her mind started racing as to what to say.
"She quickly finished the garbled mess of a line she was singing, looked at me apologetically, then gave me a small smile and winked at me with her upstage eye," she said. "And that is how I will remember her!"
Mary Beth Oravec said Reynolds always greeted people with a hug or kiss, as if one were family, and sincerely welcomed everyone to the Guild.
"I spent most of my volunteer time scenic painting, so I usually saw Diana walking through the club room, as she was a costume governor for many years," she said. "She was always a charmer, onstage or off."
Patricia LaFramboise said Reynolds was a true friend for many years, whom she met when she played Golde to Reynolds' Yente in the 1986 production of "Fiddler on the Roof."
"Working with Diana on stage was so much fun," she said. "She was such a giving actor and person. I was lucky to do 'Fiddler' with her a total of three times."
LaFramboise said she also did "Crossing Delancey" in 2010 with Reynolds.
"I think she and I were born to play a couple of old Jewish broads sitting around kibitzing about the old days," she said.
LaFramboise said they also costumed shows together.
"The best was 'Chicago,' the underwear show," she said. "She wasn't much at sewing, but she sure could sit in her chair and lovingly order people around, while always holding a cigarette."
LaFramboise said Reynolds was a talented actress, who could make you laugh or cry.
"She was always available to listen or help me out," she said. "She is sorely missed."
Aric Liljegren, who did "Fiddler" with Reynolds at the Guild in 1986, in which he played Fyedka, said she inspired him when he was a teenage actor learning his craft.
"Diana was a true matriarch of the theater," he said. "She had kind, wise eyes and a calm, motherly demeanor. Her voice had a hint of Lauren Bacall to it, and she always had kind, encouraging things to say, especially to young actors."
Liljegren said they also shared the stage in "Oliver" at the Guild, in which he played Bill Sykes.
"She was the rose seller who sings the hauntingly beautiful opening lines in the song 'Who Will Buy,'" he said.
Liljegren said Reynolds was able to tap into a deep well of emotion without letting it get away from her, or without having it seem insincere. He said she told him that one needed to draw upon life's experiences, and channel that on stage, without losing control of the performance.
"I was about 16 at the time, and her words still echo in my head every time I take to the stage," he said. "It was the advice I needed then, and it still serves me to this day."
Liljegren said he knows there will be times in the future when he wishes he could hear her reassuring voice and kind words of encouragement.
"She touched so many people in her life," he said. "Perhaps we will share a stage again in another life."
Diana was the wife of the late David Sr., mother of David Jr. (Kimberly) and Derek (Heather), and grandmother to Jade and Wesley.
To see her online obituary, go to legacy.com/obituaries/name/diana-reynolds-obituary?pid=197778770.