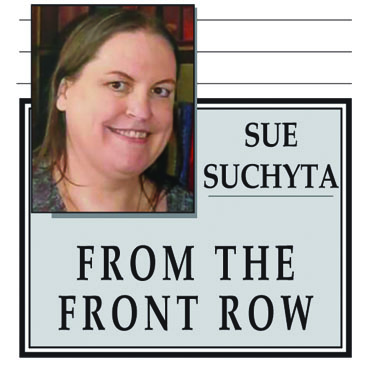 In a year that has kept theatergoers from their seats in the face of pandemic precautions, another announcement rocked patrons March 22, as the Nederlander Group, which provides Broadway shows at Detroit's Fisher Theater, Music Hall and the Detroit Opera House, announced it was selling the Fisher Theater to the Ambassador Theater Group, a British subsidiary of International Holdings Inc.
The sale is slated to be finalized March 29, with the selling price not being revealed until the final act.
Broadway in Detroit staff – at least those who were not released due to the pandemic – are said to be keeping their positions, and it was optimistically stated that theatergoers, who have not seen a show at the Fisher since "Fiddler on the Roof" closed a year ago, will not notice a difference in programming.
Alan Lichtenstein, executive director for Broadway in Detroit, said in a statement that plans are underway for a 2021-22 season, COVID-19 permitting.
"Broadway in Detroit continues to prepare to reopen later this year," he said. "There are no changes planned to our staff, volunteers or the services we provide, and our focus is on continuing to provide the best Broadway experience in Detroit."
Marketing Director Scott Meyers said they were trying to establish a schedule of shows, so performance dates could be announced to the public.
"A lot of it is dependent on what the status of the pandemic is when the shows start rehearsing," he said. "We don't have an answer to that yet."
The Fisher Theater opened Nov. 11, 1928, as a movie and vaudeville house. It closed at the end of 1960, and was extensively remodeled by Nederlander, re-opening in 1961 for live Broadway touring productions.
The theater, which seats 3,500, has attracted Tony Award and Pulitzer Prize-winning shows, and has brought memorable stars, including Carol Channing in "Hello, Dolly!," Zero Mostel in "Fiddler on the Roof," Gwen Verdon in "Sweet Charity" and Sammy Davis Jr. in "Golden Boy."
Audiences have enjoyed blockbuster shows, including "Oliver," "Camelot," "The Sound of Music," "A Chorus Line," "Les Miserables," "Rent," "Cats," "Wicked," "Chicago," "Phantom of the Opera," "Chicago," "The Lion King," "West Side Story," "Miss Saigon," "The Book of Mormon" and "Hamilton."
For more information as it is updated, follow broadwayindetroit.com.
U of D MERCY PRESENTS 'HITCHCOCKED'
"Hitchcocked!," an audio serial drama series, will be presented by the University of Detroit Mercy Department of Performing Arts, now through July 19, in conjunction with the Detroit Mercy Theatre Company.
New episodes of the world premiere work, by playwright Joe Landry, will be released each Friday.
The saga follows two video store clerks who launch an immersive game experience, based on Hitchcock films, only to find themselves embroiled in a real-life mystery.
The show, directed by Assistant Professor of Theater Andrew Papa, includes Mary Liz Valesano as costume designer, Seth Amadei as lighting designer, Alan Devlin as technical director and sound designer, Sarah Drum as stage manager, Greg Grobis as managing director and Kirk Diedrich as graphic designer.
The cast includes Luke Adamkiewicz, Chris Berryman, Elizabeth Breger, Nina Carlson, Preston Cornelius, Adam El-Zein, Amelia Rose Glenn, Kaelyn Johnson, Matthew Klug, Ali Laho, Taylor LaPorte, Mason Modzelewski, Elise Pannemann, Jeremy St. Martin, Jade Sibert and Olivia Swad.
For more information, go to udmercy.edu/hitchcocked.