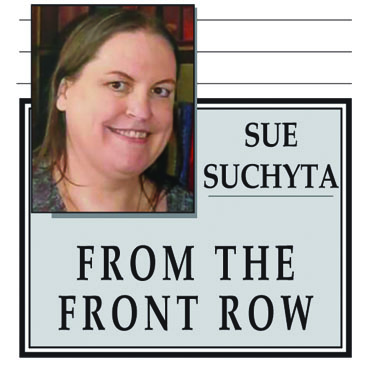 With theaters still in pandemic mode, Go Comedy! Improv Theater has expanded it streaming lineup through spring, while the Open Book Theatre Company is continuing its virtual offerings while planning its second season of Driveway Theatre.
Go Comedy! of Ferndale recently announced it is expanding its lineup of streaming shows this spring, with the theater's anchor show, "The Go Comedy! All Star Showdown" joining the two current streaming shows, "Showtime Tonight" and "Reality Check."
Streaming tickets, which start at $5, are available at gocomedy.net.
The "Go Comedy! All Star Showdown Home Edition" will make a comeback at 8 p.m. Saturdays with an improvised game show format, as two teams of improv artists play improvisation games online while the viewing audience provide suggestions.
"Showtime Tonight, the Go Comedy! All Star Showdown" will host a free interview-format show featuring cast members from the weekend show. Hosted by resident artist Chris Fortin, members of the Go Comedy! company will talk about life off "the wicked stage," as well as the state of the world, and will entertain questions from the online audience, at 8 p.m. on alternating Thursdays on the Go Comedy! Facebook page and YouTube Channel.
"Reality Check" will debut online at 8 p.m. April 3, and will alternate with the "Go Comedy! All Star Showdown Home Edition." It will turn audience suggestions into an all-new, completely improvised reality TV show parody.
"Date Night" will fill up the 8 p.m. Friday online slot, using audience input and questions to create a digital dating show, with an entertaining bevy of bachelors and bachelorettes. Then, when the winning pair go on a virtual, onstage date, audience suggestions bring the date to a comedic climax.
Also, local storytellers will live-stream true-life stories once-a-month on "Let's Just Say," which is based on a monthly topic. Tickets are $5, and available through gocomedy.net.
Donations above the $5 base price will help support the theater during its coronavirus safety shutdown.
"Streaming shows provide our artists with an opportunity to perform and interact with the community in a way that is safe," said Pj Jacokes, Go Comedy! co-owner and producer. "While we cannot wait to open our doors and perform live, in person, we continue to listen to the experts and follow their guidance to a safe reopening later this year."
Go Comedy! Improv Theater is located at 261 E. Nine Mile in Ferndale. For showtimes and dates, go to gocomedy.net.
OPEN BOOK CONTINUES 'WEEKEND WONDERS,' DRIVEWAY THEATRE
The Open Book Theatre Company's "Weekend Wonders," which are written, directed, rehearsed and performed in 48 hours, continue to provide new offerings each month, with past shows available for viewing on the OBTC Facebook page.
The March Weekend Wonders show was sponsored by the Trenton Business Association, with the upcoming April show sponsored by Laurent and Erica Chappuis.
In addition, OBTC will launch a second season of Driveway Theatre, with three brand new 30-minute plays, plus improv, all performed outdoors in a COVID-safe environment. The first show is set to start touring Memorial Day weekend. Watch for an announcement in mid-April.
The Open Book Theatre Company is located at 1621 West Road in Trenton. For more information, go to openbooktc.com.