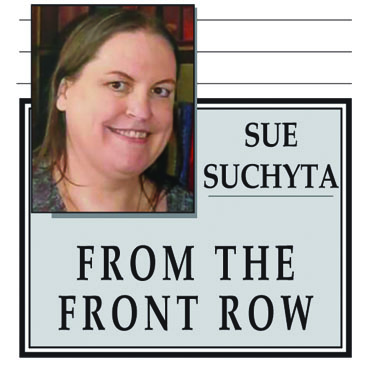 The house lights aren't dimming, you aren't in the hushed house and the coronavirus is still among us, but the creative minds of the theater world continue to make streaming shows available until the day when we can see them once again in person.
The new British musical "The Sorcerer's Apprentice," by Richard Hough and Ben Morales Frost, explores the extraordinary world of a sorcerer and his rebellious daughter as she discovers her magical powers.
Set in Northern Ireland, in a small town pushed to its limits by encroaching capitalism, the father and daughter must set aside their own differences to work together to save their town.
The family-friendly musical, with a nod to Disney's "Fantasia," has magical brooms as well as a love story. It is also inspired by the classic poem by Johann Wolfgang von Goethe.
Directed by Charlotte Westenra, the cast includes Dawn Hope as Lamia Lydekker, David Thaxton as Johan Gottel and Mary Moore, a London School of Musical Theatre graduate who makes her professional debut in the title role as Eva Gottel.
Also in the cast are Nicola Blackman as Isobel Grammaticus and Greta Arno; Marc Pickering as Fabian Lydekker; Yazdan Qafouri as Erik Sondersson; and, in the ensemble, Tom Bales, Vicki Lee Taylor, Ryan Pidgen and Kayleigh Thadani.
The musical was filmed at the Southwark Playhouse in February, and supported using public funding by the National Lottery through the Arts Council England.
The show will stream live through April 11, and will stream April 12 to 18 on demand. The live shows are British Summer Time, which is an hour ahead of Coordinated Universal Time, also known as Greenwich Mean Time.
To order viewing passes, go to the Broadway in Detroit Facebook page and click on the link, or go to www.broadwayindetroit.com/shows/the-sorcerers-apprentice?fbclid=IwAR1lJGdMlMitJX19Edis1TOLJ85uYPkwU4bRED08kOwWLLhd7oSOkQtpX98 or go to www.stellartickets.com/o/seabright-productions/events/the-sorcerers-apprentice?aff=bbo5.
ONE MORE WEEKEND TO SEE PGD'S DURANG ONE ACTS
The Players Guild of Dearborn will stream, through April 11, three One Act plays by Christopher Durang: "Mrs. Sorken," "For Whom the Southern Belle Tolls," and "The Actor's Nightmare."
"Mrs. Sorken," directed by Matt Ripper, features a middle-aged matron who is scheduled to give a lecture on "the meaning of theatre," but when she forgets her notes, she decides to wing it, resulting in comments that are daffy yet endearing. Megan Sinclair plays the inimitable Mrs. Sorken.
"For Whom the Southern Belle Tolls," directed by David Culliton, is a parody of Tennessee Williams' "Glass Menagerie," but with switched up characters, including a hypochondriac son who collects glass cocktail stirrers, an over-the-top feminine caller, a brother who goes to the movies to pick up sailors, and a southern belle mother who is at the end of her rope.
The cast includes David Culliton as Amanda, Donald Corbin as Lawrence, Kaitlyn Cross as Ginny and Matthew Sas as Tom.
"The Actor's Nightmare," directed by Sydnee Corbin, is aptly named: An actor who innocently wanders onto a theater stage is drafted to substitute for a missing cast member, and finds himself costumed as Hamlet – but in a scene from Noel Coward's "Private Lives." As the character and iconic plays switch, the actor tries frantically – and hysterically – to make sense of the chaos.
The cast includes Mike Stec as George, Ashley Blevins as Meg, Madeleine Bien as Sarah, Josie Stec as Ellen and Kris Wright as Henry.
Remaining performances stream at 8 p.m. April 9 and 10, and 2:30 p.m. April 11. The show contains adult language. Tickets are $20 per household. To order, go to showtix4u.com/event-details/46991. For more information about the Guild, go to playersguildofdearborn.org.