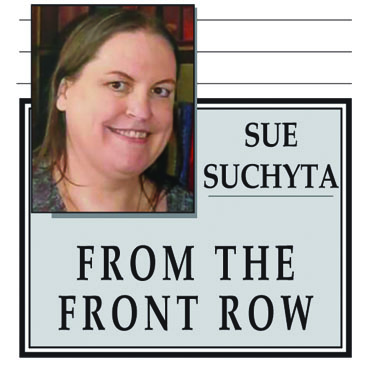 In a parody-pairing of two cultural icons, the Ringwald presents "Murder, She Podcast: Baby One More Crime," streaming virtually with the inimitable Jessica Fletcher and pop princess Britney Spears in an affectionate tongue-in-cheek comedy.
The parody was penned by pandemic playwrights Vince Kelley and Matthew Arrington, who wrote the "quaran-teeny" parodies "The Golden Girls" and "Facts of Life," as well as "Have Yourself A MISERY Little Christmas."
Brandy Joe Plambeck directed the show, which features Richard Peyton as Jessica Fletcher.
The story begins when Jessica Fletcher is recording a podcast with her trusty sidekick, Sherriff Amos Tucker, and the mysterious disappearance of Britney Spears, the princess of pop, is postulated. Is it simply time out of the public eye, or something more serious?
The Ringwald creative team developed the parody "with love and affection" before the Feb. 5 release of "Framing Britney Spears," the documentary presented by the New York Times.
Plambeck said "Murder, She Podcast" was initially planned as a Halloween offering, but when another project filled that time slot, they shifted it to follow the Christmas show.
"We've always been a fan of the TV show, 'Murder, She Wrote,' and thought we could do a fun parody of it," he said. "I would rate the show PG-13 for some strong language."
Plambeck said they rehearsed over Zoom, which created its own challenges.
"Zoom rehearsals just aren't the same, because it is hard to get it into your blood, since you are sitting in front of a computer," he said. "However, since there isn't a whole lot going on these days, people's schedules are usually pretty open."
Plambeck said much of the filming occurred at Affirmations, an LGBTQ+ community center in Ferndale, with additional scenes shot in the actors' homes.
"We all get tested for COVID a day or two before filming, to make sure that we are all safe to be together in confined spaces," he said. "Masks are worn by crew the entire time, and the actors remove theirs when we are filming and wear them when we are between takes."
Plambeck said when they film a show for streaming, they miss having audience feedback from which to feed off.
"You ultimately go with one take that everyone will see," he said. "It's fun to put it all together, but also stressful."
The cast also includes Joe Bailey as Sherriff Amos Tupper, Suzan M. Jacokes as Andrew Lark, Joel Mitchell as Gene Smart, Nicole Pascaretta as Jamie Lynn Spears, Donny Riedel as Chris Crocker, Cory Shorter as Jeffrey Bean and a "super special secret guest star" as Britney.
Dyan Bailey, Vince Kelley, and Katy Schoetzow assistant directed, with video editing by Brandy Joe Plambeck and Dyan Bailey, property design by Katy Schoetzow, costume design by Vince Kelley and makeup design by Kayla Kelley.
The show, which streams April 16 to May 10, has three giving levels: $20, $50 and $100, and uses a Vimeo link for viewing on a smart phone, laptop, tablet or smart TV. For more information, go to theRingwald.com.