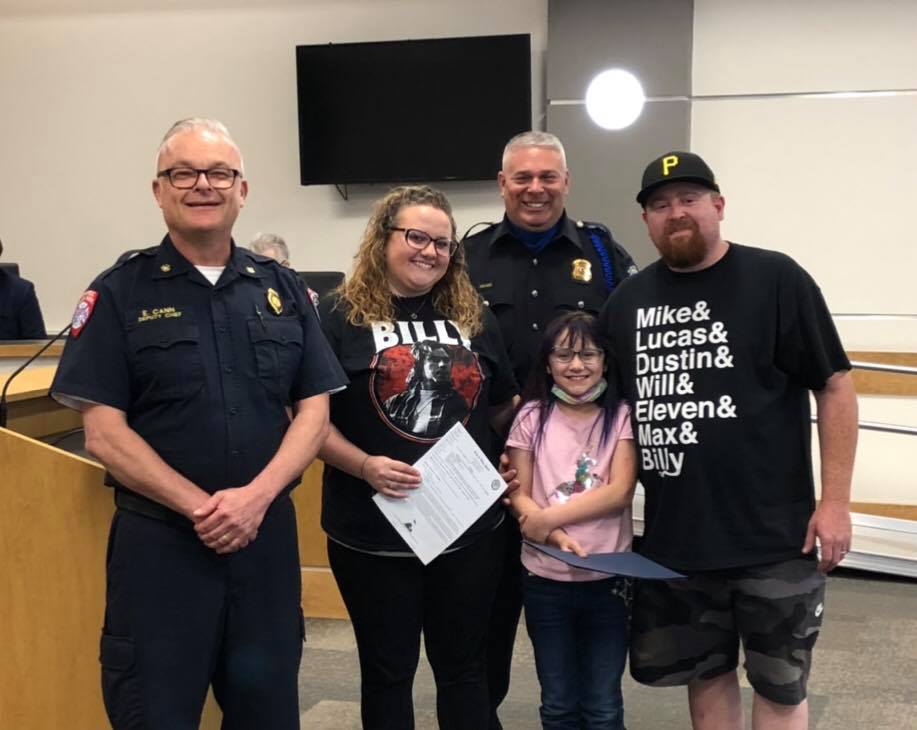 By ZEINAB NAJM
Sunday Times Newspapers
ALLEN PARK — Gabriella Mokler was honored by the Allen Park Police and Fire departments with the Lifesaving Award after she helped her mother during a medical emergency.
Gabriella, 9, is currently living with her family at a hotel in Allen Park after being one of eight families displaced by a Feb. 8 fire at a Lincoln Park apartment building. Gabriella and her mother lost almost all their personal belongings in the fire.
During the May 25 Allen Park City Council meeting, Police Chief Christopher Egan and Deputy Fire Chief Edward Cann presented Gabriella with the proclamation.
Gabriella was with her mother, Samantha Mokler, in their fourth floor hotel room May 9 when Mokler became unresponsive from a medical emergency. Gabriella called 911, followed by a phone call to her grandmother where she explained what was happening and that 911 was on the way.
While speaking with dispatch, Gabriella was able to remain calm and provide all the pertinent information.
Once police officers and firefighters arrived, Gabriella went downstairs and directed them to her mother, Egan said. Mokler was transported to the hospital where she woke up and became responsive.
"She did a great job and was able to basically save her mother's life," Egan said.
Mokler is an Air Force veteran who trained her daughter on what to do if there is an emergency, how to call to 911, remain calm and give all important to dispatch.
A GoFundMe account set up for the family following the fire has raised $5,976 of its $8,000 goal as of May 27.
The most recent update posted May 25 said Mokler is still living in a hotel room which she is now paying for. She is also currently not working due to her medical emergency.
To donate click here.
(Zeinab Najm can be reached at [email protected])