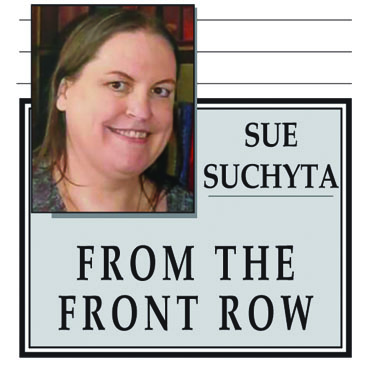 The Ringwald Theatre, which did not renew its lease amid the pandemic, will launch its next stage at Affirmations LGBTQ+ Community Center, where it plans to renovate the community room.
Affirmations, 290 W. Nine Mile Road in Ferndale, will help The Ringwald launch its new season this fall, tentatively, inside the center.
Following its June 1 announcement, Ringwald Theatre staff launched its Comeback Campaign to outfit its new theater space, with a $50,000 goal, to purchase essentials. Donations may be made on its website, at theRingwald.com.
Joe Bailey, Ringwald artistic director, said the group was thankful for the support they have received since they made the difficult decision during COVID-19 to leave their Woodward and Nine Mile location, where they had been for 14 years.
"Our Comeback Campaign will help us create the space we've always imagined," he said. "We're grateful for the continued support, and we are excited to return to Ferndale and partner with the wonderful people of Affirmations."
Ferndale Mayor Melanie Piana said she was pleased that The Ringwald, through its partnership with affirmations, will remain in the heart of the city.
"The Ringwald has been an anchor cultural institution, uplifting our local arts community and nurturing our creative, entrepreneurial spirit," she said. "Both organizations aligning their missions will make a profound and last contribution to the LGBTQ+ community and our downtown."
In its new location, The Ringwald company hopes to upgrade the audience experience with updated lighting, riser seating and other amenities.
In addition to its roster of cutting edge plays and musicals, The Ringwald company will provide theatrical programing for Affirmations' constituents.
Affirmations Executive Director David Garcia said he is excited by the partnership.
"The Ringwald Theatre provides fun, quality entertainment, not only to the LGBTQ+ community, but to everyone in the region," he said. "Teaming up with The Ringwald will allow us to develop new and exciting programing, such as youth theater, film nights, comedy nights, one-person shows and so much more. We welcome this partnership and are looking forward to many opening nights."
OPEN BOOK THEATRE COMPANY TO RETURN INDOORS IN THE FALL
Trenton's Open Book Theatre Company also plans to return to its indoor performance space this fall, with "This Random World" running Sept. 10 through Oct. 10 at the theater, 1621 West Road.
Artistic Director Krista Schafer Ewbank said the entire cast that was put in limbo in March 2020 has been reassembled.
"We are hard at work to bring you this funny and beautiful show about connections," she said. "We are putting together the entire season, and we will let you know when tickets are available."
Schafer said that with COVID-19 protocols rapidly changing, a clear plan will be communicated to patrons when tickets go on sale.
"The safety of our artists and audience is of utmost importance to us," she said. "However, you don't have to wait until September to see an Open Book show, because this summer Open Book is bringing theatre to you."
She said Driveway Theater, now in its second season, starts at $100 per performance, and is perfect for a block party, work picnic or family barbecue. The first Driveway Theatre show, "Every Love Story Ever Told," is now available for booking.
As the summer progresses, "Advantage Rule," "You Talk White" and "Off Book Improv" will be added to the roster.
Each show is 30 minutes long, features two performers, and is COVID-safe.
For more information, go to openbooktc.com.