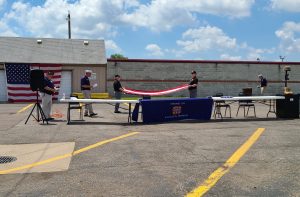 By SUE SUCHYTA
Sunday Times Newspapers
WYANDOTTE – Old Glory was honored June 13 as Veterans of Foreign Wars Post 1136, located at 633 Ford Avenue, honored the Stars and Stripes during a ritualistic Flag Day ceremony.
VFW Commander Brian Martin, who led the service, spoke of the flag's colors, with blue representing justice and perseverance, a white star for each state, and thirteen stripes for the original colonies, with red representing valor, courage and hardiness and white representing innocence and purity.
Frank Bird and Bob Langois of the Wyandotte American Legion Post 217 Americanism Team performed the 13-step flag folding process, each step of which holds symbolic meaning.
The ceremony participants retired one flag by burning, with the other retired flags to be sent to a special crematorium for controlled, safe incineration.
F-16 aircraft performing in an airshow at nearby Willow Run Airport provided an unintended but appreciated flyover, which counteracted an earlier interruption caused by a passing freight train.