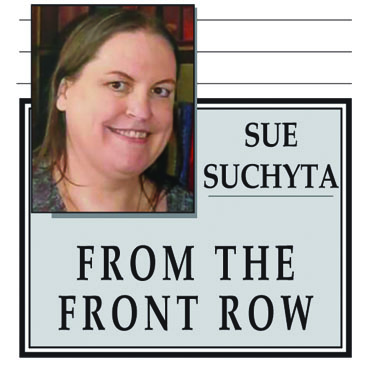 Open Book Theatre Company's final Driveway Theatre production of the summer, local playwright Craig Ester's "You Talk White" is available for bookings Aug. 13 to Sept. 17 Downriver and beyond.
Directed by K. Edmonds, the play features Joe Gaskill as Des and Breon Canady as Bell, 12-year-olds who learn to deal with racism through the eyes of children seeking friendship in a fun, high-energy, 30-minute show.
Ester said when he started writing "You Talk White" he realized that he wanted to express feelings he had when he was younger which he couldn't articulate at the time.
"As a Black kid, I grew up being afraid that I wasn't 'Black enough,' and that my interests and way of being didn't line up with what it meant to be African American," he said. "As an adult, I've learned that my Blackness is whatever I define it to be, and I hope someone in the audience connects with Bell's exploration of that idea."
Edmonds said that while she went to a diverse school growing up, people still clung to their stereotypical beliefs.
"I have lived many of the experiences the characters talk about," she said. "They are real and timeless, and fun and entertaining, while dealing with a challenging topic that exists in our country."
Edmonds said when she was growing up, she was accused of "talking White."
"I have been made to feel different, and I have to 'code switch' or change how I talk to be accepted," she said. "My mother had the same issues growing up. Perhaps my daughter won't have to experience those things."
Canady said she hopes audiences learn that racial issues should be discussed at all stages of our lives.
"I don't think anyone is ever too young to discuss race, because it is engrained in our American culture," she said. "I also hope that everyone takes away that the art of play is truly transformative: It breaks down more barriers than we think, and can show you a new world or make you a new friend, all by simply playing with someone."
Canady said that she changed the way she presented herself when she was growing up on the east side of Detroit.
"I actively 'Whitened' myself, and I craved friends who were White," she said. "I believe I craved the freedom White kids have."
Canady said White people were allowed to be themselves at all times, for better or worse.
"Black people do not have that luxury," she said. "We have to think about our blackness before we hit the handle on the door."
Canady said she understands her character's longing to fit in.
"It's natural for anyone," she said. "I like to think of myself as an adult version of Bell who found self-love and acceptance over time."
Gaskill said his character reminds him of himself at that age, as well.
"I was the gangly, non-athletic kid that most kept to himself, and was bullied for my interests or for just being 'weird,' as they put it," he said. "The only difference is that Des seems to be a lot more hopeful and less anxious than I was at that age."
Artistic director Krista Schafer Ewbank said the show is a strong fit with OBTC's mission of promoting connection through theatrical storytelling.
"We found that bringing people together for a fun show that also gets them talking about race, belonging and community is harnessing the power of play, which is what theater is, for true community building," she said.
Performances may be book on any flat, outdoor surface, whether a driveway, park or parking lot. For $100, the 30-minute show may be booked Downriver, or with an additional fee for further afield. The theater also puts out a donation bucket.
"We want to make it affordable for groups of all sizes, but also pay our artists and help keep our theater afloat," Ewbank said.
For more information about the show, or to book a performance, call 734-288-7753 or go to openbooktc.com.