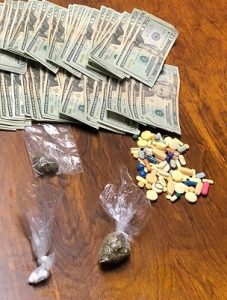 By SUE SUCHYTA
Sunday Times Newspapers
MELVINDALE — A man driving away from a Melvindale motel known for illegal drug activity early in the morning July 9 tried to flee a traffic stop, which resulted in long, high speed chase, which eventually ended in his arrest in Ecorse, when he bailed from his vehicle and tried to flee on foot.
Drug paraphernalia, crack cocaine, amphetamines, heroin and needles were found in the vehicle, a 2001 Chevy Blazer, which was seized for forfeiture, along with the cash found in the car.
The man, who was taken to the Dearborn police station, was charged with possession of narcotic paraphernalia and dangerous drugs; fleeing and eluding police officers; having an improper license plate, title and registration; and for driving on a suspended or revoked driver's license.
Police officers from River Rouge and Ecorse aided in the pursuit and apprehension.