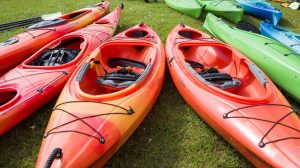 By SUE SUCHYTA
Times-Herald Newspapers
DEARBORN — Cables securing a Motor City Canoe Rental kayak to its storage trailer in the Ford Field parking lot were cut between Oct. 3 and 4, and the kayak was found abandoned on the bank of a nearby pond adjacent to the lower branch of the Rouge River.
No surveillance footage of the area was readily available for review. Rental employees were dispatched to the storage area to resecue the kayaks.