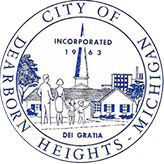 HEIGHTS — This week's ice storm has left several Dearborn Heights residents and families still without electrical power.
Those without power can visit the following public buildings that will be open for temporary relief from the cold, as well as being able to charge their cell phones and other small electrical devices:
Caroline Kennedy Library, 24590 George
Open Friday 10 a.m. to 5 p.m.
Open Saturday 10 a.m. to 5 p.m.
Richard A. Young Recreation Center, 5400 McKinley
Open Friday 7 a.m. to 7:30 p.m..
Open Saturday 9 a.m. to 4:30 p.m.
Open Sunday 11 a.m. to 5:30 p.m.
Canfield Community Center, 1801 N. Beech Daly
Open all day Friday, and overnight Friday night (Saturday night to be determined). For updates on Canfield hours, call 313-791-3600.
In addition to the city-owned facilities, there are several other local locations in the area that serve as good places to escape the cold temporarily:
• Malls and shopping centers offer a great way to stay warm, get some shopping done, get some walking exercise, and take advantage of several other activities (such as movie theaters and dining.)
• Museums and libraries provide a great opportunity to stay warm indoors for an afternoon while viewing some items and information of interest, or catching up on some reading.