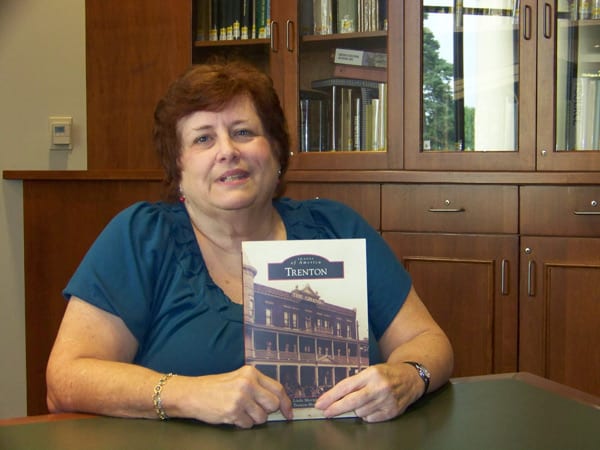 Photo by James Mitchell
Former paralegal Linda Mierzejewski is now the author of a pictorial book of Trenton history, written on behalf of the Trenton Historical Society. Arcadia's "Images of America: Trenton" will be available Sept. 24.

Photo courtesy Trenton Historical Society
Vintage pictures such as a view of this Front Street house are featured in Arcadia's "Images of America: Trenton," available Sept. 24. The book was compiled by the Trenton Historical Society and written by Linda Mierzejewski.
By JAMES MITCHELL
Sunday Times Newspapers
TRENTON — Every picture tells a story, and the long history of Trenton can now be seen and read in a pictorial book from Arcadia Publishing.
Getting the book from idea into print was a story unto itself.
Carol Hendricks, president of the Trenton Historical Society, said the group was contacted by Arcadia more than a year ago. The publisher specializes in photo-heavy community scrapbooks that reflect the history of a town and its people.
The history of Trenton — originally formed in 1834 as "Truaxton" — joins Arcadia's "Images of America" series. The text was written on behalf of the society by Linda Mierzejewski, a former paralegal making her debut as an author.
Compiling the stories and photographs proved challenging even to the members of the historical society. After writing an initial 500-word essay, Mierzejewski said the challenge of digging up vintage pictures began.
"We sifted through the archives and found a lot we couldn't use," Mierzejewski said, noting that many were not of sufficient quality for publication. Other images had issues when it came to identifying who was in the photo, especially women.
"Back then people were referred to as 'Mrs. John Smith,'" Mierzejewski said of the place wives had in society. "Arcadia wanted first names, which we didn't have."
Undaunted, Hendricks and society members combed the archives and "wrangled pictures out of people," Mierzejewski said. The journey proved educational even to acknowledged authorities on local history.
"I found out a lot about my family that I didn't know," Hendricks said. "There were some people I begged for pictures and learned a lot about my family tree."
Hendricks is among the few whose roots date back to the nearly 200-year history of Trenton, born soon after the War of 1812 when a surveyor, Maj. Abram Truax, was attracted to land bordering the Detroit River.
Truax was joined by other settlers that soon included Giles Slocum, who married Sophia Truax and built a home on what is now known as Elizabeth Park. The village was incorporated in 1855, and images from that time are featured in the book, including the maritime heritage of the community.
Hendricks said she hopes the volume will be incorporated into local history education at the schools, and the society will feature the book in a display at the Veterans Memorial Library.
"Images of America: Trenton" will be available on Amazon.com beginning Sept. 24. An invitation-only book launch celebration will be held at the former Grand Hotel on Oct. 9, and a book signing open to the public is scheduled for Oct. 10 at the Framery, 2621 W. Jefferson Ave.
Copies of the book can be pre-ordered through the society by contacting Hendricks at 734-676-4375 or via email at [email protected].
(James Mitchell can be reached at [email protected].)