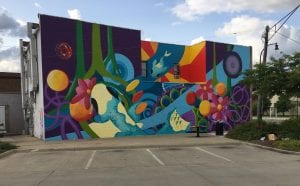 DEARBORN –  The Dearborn Community Fund invites the public to join its Pockets of Perception Team 4 students and directors for the official dedication of their mural "The Rouge River Rebirth" at 5 p.m. Aug. 15.
The dedication will take place at the mural site south of the Fish Market building, 4355 Schaefer Road.
The mural was designed and painted by nine high school students who applied for the opportunity to spend four months in the POP program working under the direction of professional artist Sunshine Duran and artist and art teacher Mohamad Bazzi.
POP is an apprentice-style program that cultivates students' creativity while encouraging multi-cultural understanding and community investment through the creation of public art. Students from all Dearborn schools are invited to apply for the program which is a project of the Dearborn Community Fund.
POP Team 4 members are Sukayna Davanzo, Amar Haidar, Isabella Hall-Durant, Mohamad Hassan, Kareem Nassar, Nathan Rudolph, Manal Said, Nawal Said and Georgia Ziegler. Local artist and resident Aimee Chorkey assisted.
"Rouge River Rebirth" depicts the colorful blending of Dearborn's history, industry and ecology over the years. The POP team chose to use a palette of bright, bold colors that add to the impact of the mural which covers the entire south side of the Fish Market building.
The mural is the fourth public art project completed by POP since the program was introduced in 2010.
"Students on each POP team collaborate with their teammates from across the city on different design concepts and, with the guidance of their instructors, come to a consensus on their project," DCF Executive Director EmmaJean Woodyard said. "They learn from artists and work with business professionals and city leaders to turn their collective vision into a work of art that will permanently enhance the community."
The mural project was possible because of support from sponsors including the East Dearborn Downtown Development Authority, Ford Motor Co. Fund, the Kosch Family Foundation, Isamay Osborne and Steven Bernard Jewelers/Steven and Faye Adelson.
To learn more about the POP program and the DCF, go to www.dearborncommunityfund.org.