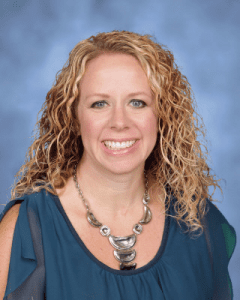 By ZEINAB NAJM
Times-Herald Newspapers
HEIGHTS — District No. 7 Supt. Jennifer Mast was suspended five days without pay because of a claim she violated district policy when she made a champagne toast on school grounds last year.
The D7 Board of Education held a special meeting May 13 following a complaint from a district employee who was in attendance at the party. An attorney was hired by the board, the complaint was investigated and led to the board's decision.
Mast was suspended for violating the district policy that prohibits drugs and alcohol on school property as a result. She will return the week of May 20.
According to Mast's post on Facebook the party took place June 21 at the board office when the administration team gathered for a regular meeting while students and teaching staff were gone for the summer.
"The group brought in breakfast to have a mini-celebration for two retiring administrators," her statement read. "One of those retirees had served D7 schools for 40 years. I brought one bottle of champagne to do a toast to the retirees. About half of that one bottle was actually consumed. Ten to 12 adults were present for the toast. After the toast, we had breakfast and held our meeting.
"Ten months later this incident was reported to the board of education by a staff member who was not present at the meeting/toast. The board is responsible for investigating all allegations, and they did so. Everyone who was present at that meeting on June 21 reported the same facts that I've just shared, to the best of their memory."
Mast said in her statement that when she was interviewed about the party, she took full responsibility for her actions and admitted that she violated board policy, but that the actions were not negligent, harmful or egregious.
"The policy that I violated was the policy that speaks to 'drug free schools.' It is against policy to bring drugs or alcohol onto school property," she wrote. "This policy is important because it is meant to protect students. However, when taken literally, it would also violate the policy to bring a bottle of wine on school property to give someone as a gift or to raffle off a basket of alcohol at a fundraiser held on school property."
She also said that interpretation and the intended spirit of the policy was important to consider.
"My intentions when bringing champagne for a toast was to celebrate and show appreciation to the dedicated staff we have in D7," she wrote. "My intention was to build morale among staff where the morale had been at an all-time low prior to my
"I understand that policies have to be followed, and I never suggested that I was above that. I have a completely clean discipline record prior to this incident."
As for her feelings toward the suspension, Mast said she hoped the discipline she received would've been reasonable and not one that would leave her without pay over five days.
"I never imagined being asked for my keys, escorted out of my building and losing access to my email, voicemail, etc.," she wrote. "I never thought I'd have to miss all of the important things that happen at this time in the school year like the graduation parade, teacher negotiation meetings, important parent and staff meetings, honor roll celebrations and more. It is so difficult for me to be away from the kids and the staff that I serve."
Mast expressed that the time length and no pay aspect of the suspension is a hardship on her family as a single mom with three children.
"I have bills like everyone else," she wrote. "Having no income for a week will be a huge hardship on my family."
When asked for comment, the district responded to WXYZ Channel 7 with a statement which read, "Since this is a personnel matter subject to applicable privacy rights, no further comments will be made."
During a May 15 board of education meeting, several residents and staff members in attendance expressed their support for Mast.
Comments made by those in attendance included that the punishment was excessive, the use of funds for attorney fees and that the situation was still on going.
(Zeinab Najm can be reached at [email protected])