By ZEINAB NAJM
Times-Herald Newspapers
DEARBORN — Dustin Jordan, 21, of Dearborn and Richard Hayes, 18, of Detroit were charged with the Aug. 12 stabbing death of Corey Crum, 26, of Marine City.
Both men were arraigned Aug. 16 in front of 19th District Court Judge Sam Salamey where they were denied bond. Jordan faces first degree premeditated murder and tampering with evidence charges while Hayes was charged with evidence tampering.
A probable cause conference is scheduled for 9 a.m. Aug. 30 in front of 19th District Court Judge Mark Somers, and a preliminary exam is set for 9 a.m. Sept. 6 with 19th District Court Judge Gene Hunt.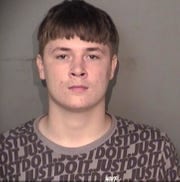 Wayne County Medical Examiner's Office Spokeswoman Charli Rose said the cause of death was multiple incised wounds to the neck. She said the death was ruled a homicide.
Police responded to an apartment in the 6200 block of Appoline about 7 a.m. Aug. 12 on a report of a possible injured man, when they discovered Crum. First aid was rendered to him, but he was was pronounced dead at the scene.
Police detectives and crime scene investigators responded to identify, gather evidence and canvas the area for potential witnesses, a police press release read.
According to his obituary, Crum was born in Detroit on Nov. 8, 1992, and was "taken too soon."
He leaves his daughter, Layla; brother, Daniel Crum; Aunts Brenda Nummer, Dawn Ploughman and Heidi Rivera; and many cousins and friends, the obituary read.
"This loss of life is tragic, and on behalf of the Dearborn Police Department, I extend my deepest condolences to the family and friends of the young man," Police Chief Ronald Haddad said in a press release.
(Zeinab Najm can be reached at [email protected].)