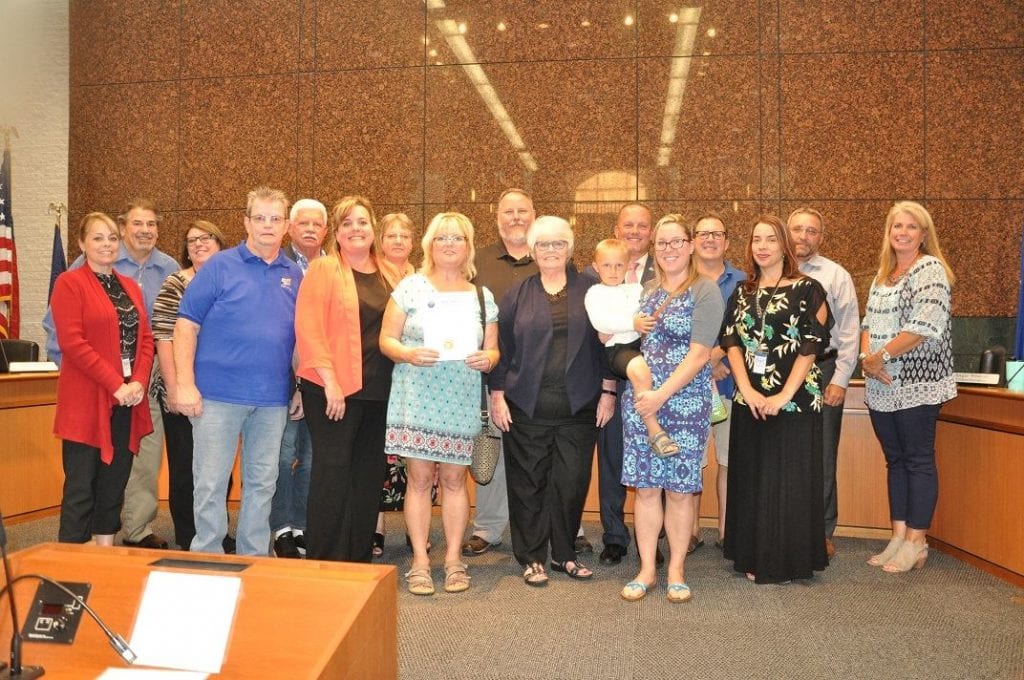 TAYLOR — Today's leaders in the city honored one of the community's favorite political figures, the late Dorothy R. West, with an official proclamation during the Sept. 3 City Council meeting.
West, who died in 2012 at the age of 83, served the city in multiple capacities from 1977 to 2003. She was one of the first women to become heavily involved in Taylor politics, and proved to be one of the most influential. She was a council member from 1977 to 1985 – during some of the biggest "growth years" under former Mayor Cameron Priebe – before serving as city clerk from 1987 to 2003.
She was Taylor's first female clerk, and is its longest-serving official in that capacity.
"I started as a co-op student at 16, and she was a mentor to me," City Clerk Cindy Bower said of West. "Her blood bled the city of Taylor. It is an honor (to be a part of this). I miss her even now. (Her memory served as) a big part of my decision to run for city clerk. (Her spirit is) still in this building with us, and she is greatly missed."
Mayor Rick Sollars remembered West as "a great friend and mentor" who was "very direct – you knew where you stood with her. She'll always be a part of the city of Taylor."
Former city official and state Rep. Doug Geiss remembered West as a trailblazer.
"She was part of the first wave of women to run for office," he said. "Politics aside, Dorothy loved the city. When I saw the display in front of city hall was dedicated to her, I thought it was done with class. Dorothy kept people honest, and on their toes. Those of us who knew her, loved her."
Born on the East Coast in 1928, she married Charles West in 1949. They had three daughters and two sons, nine grandchildren and many great-grandchildren. Many of West's relatives attended the meeting.
Former Public Information Officer Dave Gorgon wrote West's obituary in May 2012, and it told the story of more than just an astute political figure. She stood with some of the most influential political names in Taylor's past, from Donald Zub to Priebe to Greg Pitoniak.
Priebe remembered West's council days, when she cast votes that may not have been popular, but were the right thing to do at the time.
"She did things that took great courage," Priebe said. "She was a decent, caring person."
As city clerk, she eliminated antiquated voting machines, installed a modern system, added voting booths and recorded results in a timely manner. She became an advocate of the "senior vote," increasing voter turnout by sending thousands of applications to registered voters over the age of 60. She also updated the city's records with a modern filing system.
Under former mayors Priebe and Pitoniak, she promoted the progressive idea of redeveloping the rental units in southwest Taylor, a project made possible when voters approved a 1-mill tax increase for 20 years.
When visitors arrive in the Goddard Road parking lot of City Hall, they will be reminded of West's dedication to Taylor. On the back of the entrance sign sits a simple dedication to one of the city's most influential figures: "Honoring the Service of Dorothy R. West."
The memorial to Mrs. West in the front of City Hall is one of several that have been instituted under Sollars over the past six years. A pocket park was dedicated to former Mayor Zub, and the roads and entrances to Heritage Park were dedicated to Greg Bzura, Sam Pizzo and Andy Gerich, all major contributors to the annual Junior League World Series.
Source: City of Taylor