By SUE SUCHYTA
Sunday Times Newspapers
MELVINDALE – City Councilman Wheeler Marsee, and Ian Striz, son of current Mayor Stacy Bazman, will seek the mayor's office Nov. 5 amid the city's water bill and road woes.
Concerns about the city's business climate, solvency and blight are concerns expressed by both candidates.
Both men responded to questions before the city's current lead water crisis came into the spotlight.
Wheeler Marsee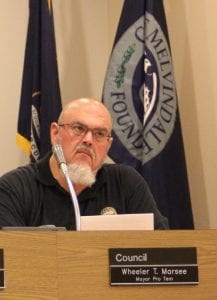 Marsee, mayor-pro-tem, chairs city council meetings when Bazman is absent.
He said he was born and raised in the city, and raised his family here.
"My family and I gave back to the city by our dedication to its youth sporting leagues, community functions and community involvement," he said.
He said he served as the chair of the Public Safety commission before serving on the city council.
Outside of his civic involvement, Marsee works as a union representative.
"My job awards me the opportunity to fight for the working class, retaining standards and rights in the blue-collar sector," he said.
Marsee said he has "a heart for this city."
"I believe in it and what it could become," he said.
In his first 90 days in office, Marsee said he would clean the major cross streets in the city of debris and crumbling concrete.
"If we are going to start being a better city, we need to start looking the part," he said. "The Downtown Development Authority zone is riddled with this debris and there is really no excuse. I don't care if it's a Wayne County road — it's my city."
Marsee said the roadway blight visible at Oakwood Boulevard and Allen Road does not give the best first impression to those driving through the intersection.
"We need that impression to be a positive one," he said. "The debris cleanup would cost the city minimally, but (would) be a very positive effect."
Marsee said that in the first six months in office, he would hope to get the city commissions fully staffed and functioning.
"Planning, DDA, and Parks and Recreation all need people to serve," he said.
In the first year, Marsee said he would try to complete the installation of all of the city's new residential water meters.
"With the technology and data these meters provide, we can get a better understanding of water bills, and hopefully catch large water bills," he said.
Marsee said the city's most pressing issue is to stay solvent.
"Over the past eight years, Melvindale's city council has made the very best choices to keep our city out of an emergency manager situation," Marsee said. "I wish to continue that trend. I will not make campaign promises that are unachievable, as situations change day by day. In the next few years, our little city has many challenges, such as retirement and insurance obligations, which need to be addressed."
Marsee said Act 202 of 2017 legislation, which mandates minimum funding for pensions and insurance obligations, is needed to protect both retirees and new employees with upfront funding of obligations, but the act burdens Melvindale and other cities.
"It will take strong negotiating to come up with answers," Marsee said. "I will work with leaders of our city and other cities to come up with the best solutions for our retirees and our city."
Marsee said he is also supportive of the shave and pave program for Melvindale's secondary roads.
"We need to continue to take advantage of any state programs and funding as we have in the past to improve our roads," Marsee said.
Ian Striz
Striz is the son of outgoing Mayor Stacy Bazman.
"I am ready to make the tough decisions that need to be made so Melvindale can be somewhere we are all proud to live," he said.
Striz said if he is elected, his priority during his first 90 days in office would be to prioritize which roads need to be repaired, so construction can begin as soon as winter is over.
"We will continue the progress we have made with the shave and pave until all the roads are repaired," Striz said. "We will also start preventative maintenance on the roads that are still in good condition to make sure they don't get to the condition the current roads are in."
Within the first year, Striz said he wants to find a way to pay off the bond debt on the water fund early to help lower the residential water bills.
"I want to pay down the bond debt as soon as possible so residents get some relief on their water bills," Striz said. "I also want to do a re-analysis of the system, to lower or eliminate the minimum units charged."
Striz said he also wants the city to attract new business.
"I want Melvindale to be an attractive place for business to come to," he said. "This starts by keeping our city as clean as possible. I will also reach out to businesses that would be a good fit in our little city, to see if they want to invest."