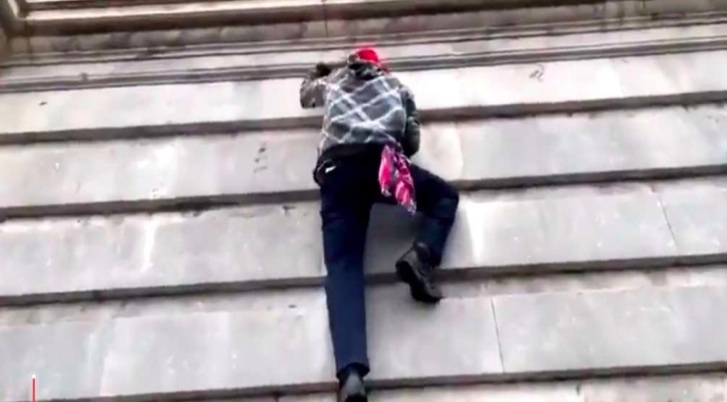 By ZEINAB NAJM
Sunday Times Newspapers
TAYLOR — Jeramiah Caplinger, 25, of Taylor was charged for participation in the Jan. 6 U.S. Capitol riot in Washington, D.C.
He faces three charges, knowingly entering or remaining in any restricted building or grounds without lawful authority, violent entry and disorderly conduct on capitol grounds, and climbing on U.S. Capitol grounds. Caplinger was released on bond.
According to the United States District Court for the District of Columbia website, Caplinger was arrested April 6 with an initial appearance in the Eastern District of Michigan the same afternoon.
Documents related to the case included a statement of facts which detailed the riot at the Capitol and Caplinger's actions.
In January, Congress convened at the Capitol for a joint session at 1 p.m., then 30 minutes later senators and representatives met in their separate chambers.
Both were in the process of certifying the vote count of the Electoral College for the November 2020 presidential election. A large crowd gathered outside the Capitol building and forced entry about 2 p.m. causing damage.
Shortly after, members of both the House and Senate — including former Vice President Mike Pence — were instructed to evacuate the chambers.
The statement of facts said that national news coverage, video footage and photos were spread on social media and other open source online platforms.
Included was a white man believed to be Caplinger who was wearing a "Trump 2020" red bucket hat and checkered jacket.
Another screenshot showed Caplinger allegedly carrying a flag with a bandana hanging out of his pocket walking down a hall inside the Capitol.
A Twitter video screenshot revealed that Caplinger possibly was one of the rioters who climbed a Capitol wall.
In February, an article with MLive.com was posted where Caplinger spoke about traveling to Washington, D.C., and breached the Capitol after former President Donald Trump's call to action.
"According to the article, the individual stated that he drove to Washington, D.C., scaled a wall, and explored the inside of the Capitol," the statement of facts document said.
Caplinger identified himself in the article where he described how the events of 2020 "fueled outrage" among Trump's supports and "being told the election was stolen was one poke too many."
As part of the investigation, tipsters were interviewed and provided additional information regarding Caplinger including that he wore a red hat in support of Trump during the week of the 2020 presidential election. He also talked about traveling to Washington, D.C., for the Jan. 6 rally.
(Zeinab Najm can be reached at [email protected])