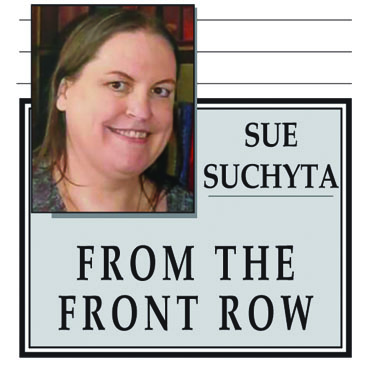 The Dearborn Youth Theater, sponsored by Dearborn Parks and Recreation, has received a $5,000 donation from the Ford Motor Company Fund through the Dearborn Community Fund. 
The Dearborn Youth Theater, which has been showcasing the city's talented young thespians for more than 50 years, encourages both creativity and confidence among its participants, which range in age from 6 to 18 years old. 
Donations help the program maximize the young actors' opportunities for success, and will positively impact the cast of "Moana, Jr.," its most recent production, as well as future programming. 
The $5,000 donation will be allocated at the discretion of Theater Manager Martin Zbosnik. 
The group hopes to obtain the rights to perform "The Sponge Bob Musical" and "Disney's Frozen Kids" in the future. 
SHAKESPEARE ROYAL OAK ANNOUNCES AUDITIONS FOR SUMMER SHOWS
Shakespeare Royal Oak will hold in-person and online auditions March 26 and 27 for "Romeo and Juliet," its main summer show, which will run July 28 to Aug. 7 at Royal Oak's Starr Jaycee Park, Michigan's largest annual outdoor professional theater festival. Onsite auditions will be at St. John Episcopal Church, 26998 Woodward Ave. in Royal Oak. 
Directed by Stephanie Buck, with combat design by Michael Brian Ogden, "Romeo and Juliet" will be set amid climate crisis and war, with battling factions attempting to overtaking the government to control fair Verona, where we set the scene. 
SRO is committed to diversity in its casting, and encourages artists of all races, backgrounds and cultures to audition and apply. 
The show will run July 28 to Aug. 7 at the park, which is located on 13 Mile Road, between Crooks Road and Maple Street. 
"Romeo and Juliet" will run in tandem with the group's outdoor Youth Education programs, which include the SRO Teen Ensemble and its KidsAct! program. 
The Teen Ensemble, for high school students, will perform Shakespeare's "As You Like It." The program runs July 18 to 29, with July 31 and Aug. 1 and 2 performances. 
The KidsAct! program, for students entering first through eighth grades, will be held at Starr Jaycee Park Aug. 1 to 5, with an Aug. 6 performance date. 
Registration will begin online April 1, at Shakespeareroyaloak.com, or via email, at [email protected]. 
THE RINGWALD ANNOUNCES AUDITIONS AND ITS UPCOMING SEASON
The Ringwald Theatre will launch its 16th season with an enticing blend of drama, comedy, parody and "men in dresses" at its Affirmations stage, 290 W. 9 Mile Road in Ferndale. 
Auditions for the season will be held June 8 and 11 on the Affirmations stage. For more information, go to TheRingwald.com. 
Its new season begins Aug. 26 through Sept. 12 with Miranda Rose Hall's "Plot Points in Our Sexual Development," directed by Asia Hicks. 
When Theo and Cecily consider being honest with each other about their sexual histories, they must weigh whether their new relationship can survive the truth. The show explores gender, intimacy and the risk of revealing yourself to the one you love.
The season continues with William Goldman's "Misery" Oct. 7 to 31, based on the Stephen King novel, with direction by Brandy Joe Plambeck.
When a novelist is rescued from a car crash by his self-proclaimed "biggest fan," he awakens a captive in his fan's secluded home. When the woman realizes that his manuscript has her favorite character being killed off, she forces the author to write a new novel, more to her liking, as he comes to realize that she will not let him go anywhere. 
The Ringwald will hold a December countdown with the adult comedy, "Who's Holiday," which runs Dec. 2 to 19, with direction by Suzan Jacokes. 
Cindy Lou Who is now grown up, drinking too much, living in a trailer and speaking in Seussian verse. The holiday hit uncovers why her life has taken "a turn for the verse." 
The Sondheim musical "Assassins" is the Ringwald's first show of 2023, with a Feb. 24 to March 27 run. 
The Tony Award-winner views the celebrity of presidential assassins, and is set against a controversial musical score. 
Matthew Lopez's "The Inheritance," (Parts 1 and 2), inspired by the E.M. Forster novel "Howards End," will run May 5 to June 19, with direction by Joe Bailey.
Set decades after the height of the AIDS epidemic, the show follows three generations of gay men in New York City as they build their lives in a changing America, and examines survival, healing, class divisions and redefines what makes a place a home. 
The show won a trifecta: The 2019 Olivier Award for Best Play, the 2020 Tony Award for Best Play and the 2020 Drama Desk Award for Best Play. 
The summer sun of 2023 is destined to shine of another Golden Girls parody, with details to be revealed later. 
Go to TheRingwald.com for more information.