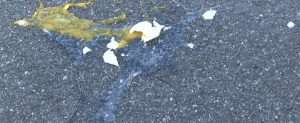 By SUE SUCHYTA
Sunday Times Newspapers
RIVERVIEW — A 47-year-old Riverview woman's driveway was reported egged overnight the morning of Aug. 3 in the 20000 block of Coachwood Street.
The victim said there was no permanent damage, but she wanted it documented, since her property has been egged in the past. 
She said her surveillance cameras did not capture footage of the vandalism.